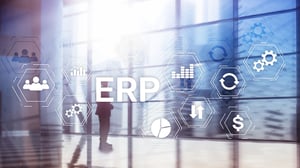 My wife and I recently purchased a 2018 Pacifica, our seventh Chrysler minivan, and while I won't try to convince anyone that the minivan has become a cool vehicle, this Pacifica is drastically different from our 1990 Dodge Grand Caravan.
For roughly the same price in constant dollar terms, the new features and improvements on existing features are too numerous to list. Our new Pacifica is a far safer vehicle for the driver and passengers, faster, more fuel efficient, more comfortable, more technologically-advanced, compliant with new emission laws (the engine shuts off when stopped), more informative and self-diagnosing to the owner, and overall a better experience.
But, it's still a minivan, just one with 34 years' worth of development and enhancement.
Much the same can be said about 2018-19 enterprise resource planning (ERP) systems. Sure, they're still called ERP systems, an aging acronym that's been with us since the early 1990s, but today's ERP systems, like my new Pacifica, are a far different experience from those on the market decades ago.
In the 1980s, industrial companies used two primary and separate software systems to manage and control their businesses: accounting software and material requirements planning (MRP) software. Accounting software processed the transactions from order-to-cash and purchase-to-payment, provided basic tracking of assets and liabilities like inventory, AR, and AP in the aggregate, and delivered financial reports. MRP software provided tactical decision support like what, how much, and when to buy and make products, and more detailed inventory control features like lot and serial traceability.
In the 1990s, the software world merged these two software types and created ERP software.
Just as my 1990 Grand Caravan and 2018 Pacifica are, technically-speaking, both minivans, and a 1993 ERP system and a 2018 ERP system are both ERP systems, the evolution and differences are dramatic. Those early ERP systems fall far short of today's ERP systems in terms of:
Performance

Reliability

Capabilities

User-friendliness

Compliance with laws and regulations

Overall experience
Today's ERP systems are not your grandfather's' ERP systems.
As just one prime example, a 1993 ERP model rarely included support for quality control transaction processing or a company's quality management system (e.g., ISO). By contrast, today's ERP systems virtually all provide support for both and, as a result, our scope of work has grown to include the Quality Department and related processes.
We've helped clients use ERP software to recognize raw materials received that require testing and inspection after receipt, quarantine those materials, present the test and inspection requirements and methods to quality technicians, record the data resulting from the tests and inspections, and process the acceptances and failures according to the quality system work procedures.
So what else does a 2018-19 model include that a 1990s model does not? Here are four features that were pervasive among our clients this year:
Estimating – tools to estimate the elemental costs of a new or revised product to facilitate cost-based quotations and pricing

Project Management – tools to manage internal projects, like R&D or facility expansions, and control their related timelines and costs

Inbound Logistics – tools to manage and track the importing of container shipments from overseas

Amazon and eBay Integration – tools to promote products on and receive orders from eCommerce sites
Just as my 1990 Grand Caravan didn't include the trailer towing, heated seats, or blind-spot monitoring of my 2018 Pacifica, early vintage ERP systems didn't include any of the four features listed above that many modern ERP systems offer.