When people talk about changing out their ERP systems, especially in the small-mid-size manufacturing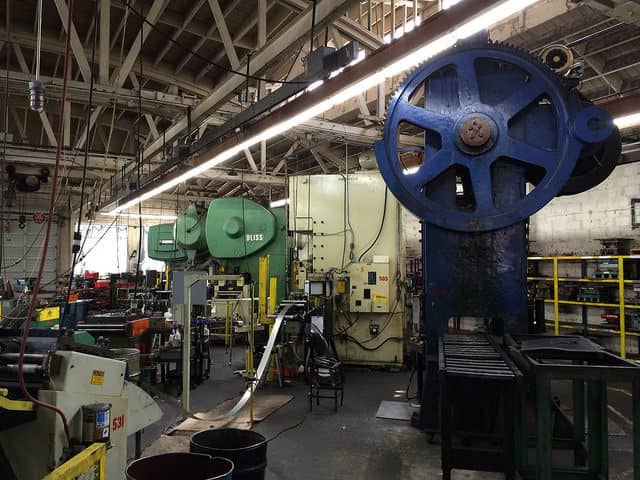 market, it generates a lot of fear and anxiety in the organization. They've heard stories of big companies spending millions of dollars on implementation, and in some cases, still did not achieve half of what they'd like the new ERP system to accomplish. Being over time and over budget is the worst fear. ERP systems are typically a significant investment for the future, but harder to quantify in terms of ROI, than a new machine on the shop floor, which can be measured by uptime, number of parts/hr., etc. A new software system is supposed to help the overall business to be more productive, responsive, and efficient with everyone's time.
Let's Look at the Five Top Things That May Tell You Your ERP System Implementation Project May Be in Trouble:
Lack of Senior Management Buy-In

– If the project has been delegated to line and administrative managers, and does not have high visibility and support at the senior management level, something has gone terribly wrong. The future of the business depends on vision and direction by senior leadership on how the company will grow, become more profitable, and satisfy their customers. Without clearly defined objectives, it may be time to start over, re-evaluate why you are doing this, and re-set a course that will truly add value to your business model.

Other Priorities Have Taken Over

– This is a classic issue in most companies. Every project is competing for time and resources. Delays and lack of time committed to the ERP project will result in missing timelines, milestone dates, and any hope of meeting your target Go Live date. Delays typically equal higher costs, and can postpone when you can realize the return on investment you've made. It can also be a huge cash flow issue, if no foreseeable results are coming soon.

Lack of Consensus and Communication within your Team –

If everyone is not in agreement, and in consensus on the best way to implement the system, chaos can be the result. You need a leader to facilitate and guide you through the thousands of decisions on how best to set-up the system, handle the transactions, work orders, etc. and resolve differences in a way that hopefully leaves everyone satisfied. This takes a skillful person in team building, conflict resolution and diplomacy. Office turf wars and ownership are delicate issues, if not handled properly. It can quickly derail any major initiative like this.

Missing Dates, Missing Key People, and Missing Deadlines –

A comprehensive project plan is essential to detail out all of the tasks, assignments, and milestones for each phase in the implementation. If the team is consistently missing dates, cannot align its personnel, and does not complete assignments in a timely way, the whole focus and energy can be lost. Getting the momentum back is very difficult, once it is lost. Freeing up resources is a key issue for senior managers. If they say someone is never "free", they need to take a closer look at why they have set up a process which is so "people" dependent. Subject matter experts in each functional area are critical to helping mold the new system to meet your needs.

Too Many Customizations and Development –

Unfortunately people do not like to change, for the most part. They want a new system, because of the frustration of dealing with the old system, but don't really want to consider changing what and how they do things in new application. Many companies feel they are truly "unique" in how they do business, and want to customize and develop special software to meet what they perceive as "unique". This mentality can really bog down a project, send the costs way over budget, and delay it considerably. It can also create a potential future problem for support, upgrades, and maintenance. Try to avoid mass customizations, and discuss why a customization is needed before you dive in. If too many are being made, maybe you need to look at the package you chose, to see if it really was suited to what you do from the start.
ERP implementations can be a success, if everyone is on the same page. It takes a plan with a clear vision and support from senior management, that everyone is committed to following, and is willing to devote the time necessary to Go Live. If key issues are not identified and addressed, your solution will miss the mark, and it will not help you significantly grow the business over time.
This blog was coauthored by Alan Lupas and Kevin Goergen:
Alan Lupas and Kevin Goergen both work in our M&M Business Solutions Group. Alan has over 33 years experience in Northeast Ohio in sales, marketing and business development in small-to-mid-size manufacturing firms, distribution, and IT firms. Kevin has over 5 years of experience in business analysis and consulting and primarily works with clients in the manufacturing industry, assisting them with business process evaluation, and providing application training and implementation services of Enterprise Resource Planning Software Systems.
Check out another ERP blog post:
What Start Trek Has Taught Me About Team Dynamics in ERP Implementation