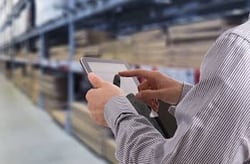 Improving supply chain management starts with developing a supply chain management strategy. While this effort may be time-consuming, not creating a supply chain strategy could be even more costly.
Many different factors can affect the success of your supply chain. But there are a few critical action items you should focus on to help ensure success and profitability, including the following:
1. Create and Share a Written Supply Chain Strategy Document
Most manufacturers rely on gut, history and trust in their suppliers to develop their goods on time. With a written strategy, you can see and predict the future and determine your own success based on your suppliers' success.
A supply chain strategy document is a written plan to help your supply chain managers determine how to distribute or allocate resources over a period of time. We suggest you include a S.W.O.T. analysis in this document so you can proactively address opportunities or issues.
Strengths: Who are your go-to suppliers that are always looking out for your best interests? Who understands your business best? Who has a quick turnaround? Do they have more parts they could supply to you, even if they are a little more expensive? It may be worth paying a little more for predictability.
Weaknesses: What are your fears about your suppliers? Is there a supplier that is continuously pushing the envelope to deliver on time? Do you have a supplier that often ships incomplete orders or parts that don't meet your quality reviews? Be sure to track this information. You may be missing signals that a supplier is unreliable.
Opportunities: Where along your supply chain and your production line is there an opportunity to improve? Are there parts you could start producing in-house to increase efficiency and lead time? Are there parts you should be outsourcing to free up your front line to work on more productive initiatives?
Threats: Threats can be obvious or hidden. An obvious threat could be that one of your suppliers is not producing up to par, or they always ship late, causing you to slow down production. A hidden threat may be that your competition is working with its suppliers to develop a newer and faster way to produce the same product you are offering.
2. Align Your Supply Chain with Your Business Goals
You need to have clear metrics based on your business goals — from projected sales volumes, production times and lead times down to every part required to produce your products and the predictability of your supply chain).
If you want to hit $20 million in sales, for example, how does this break down by product and month? What parts do you produce in-house and what parts are provided by your suppliers? When do you need supplier parts in-house to create the number of parts to reach your monthly sales and delivery goals? How much lead time do your suppliers require?
The viability of your suppliers is key to your flexibility. If you are working with a small supplier, they may need more lead time to produce your parts. If you are working with a larger supplier, they may have the parts on hand, but they may also charge you more for this convenience.
Do you have a system in place to measure your supply chain? It may be as simple as a spreadsheet, or you may need to invest in a supply chain management tool. Do you have a warehouse management system (WMS), an enterprise resource planning system (ERP) or a business intelligence tool (BI) in place? These systems can help you automate orders, manage your supply chain, see numbers in real time and increase your overall efficiency.
These tools will also help you prepare monthly reports to share with your partners, keeping everyone up to date on delivery times, schedules and future projections. Keeping supply chain partners aware of their monthly performance and upcoming needs will provide immeasurable results.
Focusing on your end game (your projected and actual sales) along with your supply chain will allow you to keep a high-level view of your needs and give you the opportunity to accurately and predictably align your supply chain with your business.
3. Focus on Facts and Metrics, Not Assumptions
Assumptions are all you have when you are first starting up. But once you have an established business, basing decisions on facts and actual metrics needs to be the norm.
Surprisingly, most businesses don't use daily measures to track success. If you aren't tracking daily progress and if your teams don't know what their KPIs for success look like on a daily, weekly and monthly basis, how can you improve and optimize your production, let alone your supply chain?
A fact-based culture is inherent in a long-term, successful business. We suggest having each team sit down and come up with all the metrics they can measure on a given day. Then work together to narrow them down to the critical influencing metrics — the ones that genuinely affect your business results. Having full alignment from the front line to the executive team is crucial to optimizing your lines.
You will also be amazed at the change in attitudes when you start to look at the numbers. Facts take away ambiguity and allow your teams to remove the emotionally charged attitudes and stop finger-pointing when they work together to come up with solutions on how to improve processes.
Keys to Successful Supplier Management
Focusing on managing your suppliers by developing and sharing a solid supply chain strategy document is the biggest key to successful supplier management. So is building strong relationships by keeping lines of communication open. This includes being transparent in communicating numbers, goals and issues with your partners on a consistent basis.
Make a commitment now to creating a supply chain management strategy document so you can begin reaping the benefits of improved supply chain management. Contact us with questions.