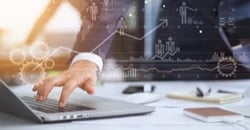 Many financial leaders suffer from data overload. This is especially true in the age of "big data" with large data sets that are too complex for traditional data processing software to handle.
Data visualization tools like Microsoft Power BI are one solution to the data overload challenges faced by many CFOs today. These tools provide interactive visualizations and business intelligence capabilities that can help financial leaders make better real-time decisions.
Here are four signs that you might be ready to utilize a data visualization tool.
Data Visualization Benefit #1: Reporting Efficiency
When it comes to reporting, financial leaders often find themselves swimming upstream. They may be forced to rely on other departments or systems to provide data while they themselves having little to no control over the quality of the information they receive or the timeliness in which it is provided. These barriers slow the process down considerably.
Maneuvering through various systems, analyzing the data, making revisions and creating the long-awaited report can become a serious hindrance to accurate reporting. By the time it's created your ability to use the report with confidence has already been jeopardized.
If this sounds familiar, you're not alone. You must be able to pivot quickly to make time-sensitive decisions. Data visualization tools like Microsoft Power BI provide an automated platform where you can do just that.
Data Visualization Benefit #2: Data Consistency
When evaluating your readiness to use data visualization tools, you need to take a good look at the current state of your data. Is it accurate? How often is it updated? Is it clean? Inconsistent data is not your friend: it leads to inaccurate reporting and misinformed decisions while simultaneously undermining the level of trust placed in the finance department.
As CFO, the last thing you want is to make important decisions based on unreliable information. Whether you are up against faulty processes, human error, or some combination, the right data visualization tool can clean, organize and centralize your data and processes to eliminate inconsistencies.
Data Visualization Benefit #3: Centralization
Trying to aggregate data from disparate systems throughout the organization can seem like an impossible task. If you're working with data sets that are spread across departments and functions, it can be difficult to make sense of it all, much less manipulate it successfully for reporting purposes.
Data visualization tools corral the data within your organization into one platform. This gives you the ability to leverage the data you're already collecting and build on that to power your company's strategic goals.
Data Visualization Benefit #4: Go Above and Beyond Excel
At some point, most organizations outgrow Excel as a tool for managing business intelligence data. However, they often struggle to find better solutions. They may fear a high price tag or an arduous change transitional process. As a result, you or your staff continue to spend hours on Excel spreadsheets that attempt to tackle what a data visualization tool could do in a few minutes.
If you find yourself or your team spending a lot of time and energy trying to create what you need in Excel, you might be ready for a better tool. Find out whether you're ready to start using data visualization tools by contacting us today.