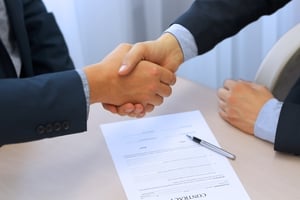 I met a retired business owner at a party recently and he found out I was a CPA. Not that I normally use this as a conversation starter, but my brother mentioned it as he introduced me.
As the night continued, we got to talking about his business and how he started it. What became clear was that he's very proud of what he had built. He sold his business 12 years earlier, but it was still an important part of who he was. As we got to that point, I asked him why he had decided to sell. He said there were consolidations going on in the industry at that time, and felt the industry was changing, and getting harder to compete in. He was then approached with an offer and it seemed like the right time to sell.
He then got a serious look in his eye and told me the business was one of the things he was most proud of in his life. The business was his baby, and selling it was one of the biggest mistakes he's ever made. Right after that comment, he mentioned that he realized it was worth a great deal more (millions more) than what he had sold it for. He also never realized how much of his life was tied to his work.
It was a great conversation but it made me wonder what had happened. For example:
What could he have done differently and how could he not know it was worth that much more?
What could he have done to get the price he felt it was worth and to understand the true impact it would have on his life after selling it?
I'm sure there's no way to anticipate every way your life will be different or know at all times exactly what your business is worth in the market, but it did occur to me that this particular business owner wasn't ready to sell. He was also not ready for the offer that led him down that specific path. I work with a lot of business owners, and as I have matured in my career, I have been fortunate enough to listen to their business plans, whether those plans are to:
Sell
Transfer the business to their kids
Hire someone to professionally manage it for their family
Work with a partner to take it to another level
Develop a culture and a plan to take it to the next level themselves
These are very healthy conversations that not only have allowed me to be a better advisor to them, but it also allows them to get outside the daily operations and spend some time thinking about what they're doing, where they're going, and how they need to do it to get there.
If you're interested in selling a business five years or even 10 years down the road, many things can be done along the way to increase your business's value and to make it more marketable. It will help you be ready for the offer. If you do not plan to sell and have no intention are you being deliberate about what the other options are and are you serious about preparing future owners and structuring the business to allow this to happen as seamlessly as possible.
When selling a business, owners need to take time preparing the company for sale before identifying or negotiating with a buyer. Depth of organization, growth opportunity, reputation, favorable market conditions, industry leadership, and many other intangible qualities will motivate buyers to pay more. Assessing the company's position in these and other areas and taking corrective actions will have a significant effect on the ultimate sale.
Are you considering selling your business? Meaden & Moore's advisors can provide ongoing, long-term business advisory services that help you meet and reconcile business and personal goals. Contact us today to learn how to sell your business.