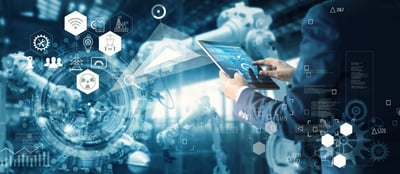 Rapid advances in technology combined with a tight labor market are prompting increasing numbers of manufacturers to consider investments in automation.
Manufacturers are under constant competitive pressure to increase efficiencies and manage costs.
The challenge is magnified as low unemployment levels make it difficult to find and retain the talent essential to running a modern manufacturing operation.
The answer, in many manufacturing executives' view, is to increase their use of technology — and with good reason. Technology has the potential to bring a number of important benefits.
Various types of tools can improve the speed and availability of decision-useful information. They have the potential to increase labor productivity, reduce costs, reduce routine manual tasks, improve product quality and safety, and reduce lead times.
That doesn't mean, every new investment in technology is a "slam dunk". Before investing in new hardware or software, the first step for any manufacturer is to assure it is fully utilizing what it already has on hand.
Nearly all but the smallest shops have already invested in enterprise resource planning (ERP). ERP systems are integrated systems that tie together all the facets of operations, finance, sales, service, human resources, distribution, and supply chain, streamlining and automating a number of key business processes.
ERP systems have evolved considerably from their earliest days when they were focused on materials planning and basic computations. Companies that have invested in ERP systems likely have upgraded, supplemented, or replaced systems over the years.
In few instances, companies implement ERP systems making the most of all its functionality. More often, companies launch elements of the ERP system that are most important to them at implementation.
Let's face it. Under the best of circumstances, an ERP implementation is difficult. It requires an enormous, well-planned, well-coordinated effort on the part of people throughout the organization, and it disrupts the current processes and procedures.
It's common for a company to implement what matters most on the front end, with the best of intentions to leverage or deploy more of the system at some future point in time. Whatever the plan at the outset, changes in the business or in personnel over time sometimes leave elements of an ERP system unutilized or under-utilized.
That's why it's important to take a minute before rushing out to purchase new technology. It's possible that existing systems may offer untapped potential, which should be explored in a thorough gap analysis.
A gap analysis seeks to identify what a company wants or needs to accomplish and determines what technology it needs to achieve the objectives. Often that leads to a decision to invest in new tools, but every company should consider the possibility that they might already have some of the new capability they're looking to acquire.
It's still possible the company may need to consider upgrades to hardware or software, or perhaps side systems to enhance an existing ERP, but those are often more cost-efficient approaches than replacing an entire ERP system.
Advances in data analytics, dashboards, and automation are creating new ways for companies to extract information, manage it, and report it. In many cases, such tools can be used in tandem with existing systems, without necessitating replacement of systems that are working effectively.
Improvements in internal control, for example, may be achievable with methods other than wholesale replacements of existing systems. Manufacturers are always looking for ways to improve their control environments, especially as they expand and grow their employees and locations.
Ultimately, there's potentially a great deal a manufacturer can accomplish in deploying new technology when the endeavor begins with a robust analysis of what's already in house.
Information in this article is based off content from Jim Rollin's article in Crain's Cleveland Business.