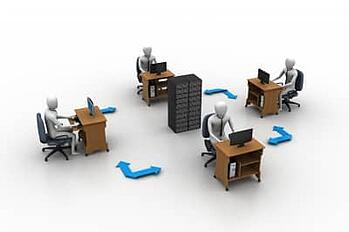 The final decision to replace or upgrade your current ERP system most often ends up taking years to contemplate. Employees are comfortable, change is stressful, and change is costly. In addition, the one issue that rises above the rest to reassure you that the decision to stay put is the correct one is, "Our current system has been modified so extensively that it would be impossible to find any replacement system that will satisfy our needs."
Vendors used to be able to attract new customers with new features, but now, even the more successful products have matured, providing the same basic functionality. Today, organizations typically don't select and implement a new system unless they have no other choice. Some reasons for this include:
They are using a legacy system that is no longer supported

They see that their existing system has outgrown its usefulness due to more complexity and volume of transactions

They realize another large customization is required to get features that are readily available in newer packages
So, for a variety of reasons, organizations are reluctant to spend the money on new ERP systems. Unfortunately there are also horror stories for companies that don't want to take any chances. Despite this, you understand that you could be throwing money away and losing your competitive edge by not taking advantage of what new technology and modern ERP systems have to offer.
What do you do with an ERP system that has a lot of problems or that you're still not sure you want to replace?
Many reluctantly live with the inefficiency and ineffectiveness. Others want to make changes, but don't know where to go for help. ERP vendors are eager and capable to help you, but the perception is that their recommendations will be self-serving. Your customizations may no longer be required in the new version and new features may offer other benefits. The tools for customizations have improved and it may be possible to do the customizations outside of modifying the source code or by making minor changes to the company's processes.
When it comes to existing customizations, it would be a shame to do nothing, since there are many ways to evaluate what you are currently facing with the upgrade or replacement of an existing ERP system.
4 Steps to Consider When Beginning Your Customization Process:
1. Evaluating ERP systems in light of current customizations – Although reentering the world of ERP systems after a long absence can be overwhelming, you may discover that the available functionality that newer systems provide will deem a majority of your current modifications obsolete or unnecessary. Add to that the increased myriad of user development tools that many newer systems provide - these will allow the development of the customizations that you still truly need to be accomplished at a much lower time and cost expense than what you had expected.
2. Determining what customizations need to be continued and which ones can be discontinued – Before embarking on the evaluation process of a new ERP system, you need to take a step back and approach this endeavor with an open mind to new ideas and process changes that may accomplish the same results that you are achieving with your current system. You are unlikely to find a new system that uses the same exact processes that you use currently to do everyday things like enter new Sales Orders or close General Ledger. So look for a system that will at least give you the general functionality you need, regardless of the process used to achieve them.
3. Review your current system's customizations - Some systems have been in place so long that the users may no longer know what is a standard report or process versus what has been customized. There are a variety of ways to look into current customizations:
If system customizations were done in-house, there should be someone on your IT staff that can help identify a list of customizations within your ERP software.

If your customizations were done by a third party, it is often worth reaching out and requesting a list of modifications in order to put together a proper RFP which fully addresses the business requirements.

There are software programs and ERP consultants that can assist in this exercise for a reasonable cost.
In some instances there may be no existing contact that you can turn to, in which case you will have to resort to other methods in an attempt to identify the customizations:
In most systems the menu system can assist you in this determination for customizations that were added. Often, customizations are stored in their own folders on your server's hard drive. A search for a folder that has the name "custom" or "mods" may open the door to various listings.
If you have access to an unmodified version of the software you are running, you can run a comparison of this out-of-box standard version of a program alongside the modified version to determine where the customizations have been made. This will also help clarify what programs have been added to the various menus in your system. These programs most often even refer to words like "training" or "education" in their naming conventions.
4. Determine the purpose and function of each customization - Once you have determined what your customizations are, the next process is to determine the purpose and functionality of each one. There may be some customizations for which the purpose is not evident or has been rendered obsolete. This is a good opportunity to question the need for every customization, since it will serve multiple purposes. First it will assist in determining what your requirements should be for a new system. Second, it will assist in defining your system and the workflow processes that will be the best fit for the future. As the needs to compete in the business world change over time, so do the internal processes you use to mainstream and support your company's competitiveness.
As when considering any large change in business (or life), take the time to gather the details, review the results, and map out the potential routes for your pathway to success. It is important to keep in mind that the software you are using will become a lifeline of your organization. It's a tool that will directly influence the long-term productivity, efficiency, and profitability of your company. If you dedicate a sizeable amount of time up-front in evaluating your current system and customizations, you will find that it will give you much greater value and payback for time well spent.
For more information about ERP Systems, check out another blog post:
Is Data Conversion and Migration an ERP Implementation Project's Black Hole?
This blog post was coauthored by Paul Bartlett and Kristin Stanford:
Paul Bartlett is a Manager in Meaden & Moore's Business Solutions Group. With more than 20 years experience in information systems, Paul has designed and customized many different business systems in a variety of industries. Paul provides clients with systems analysis, selection, implementation, training and customer support services.
Kristin Stanford is also a Manager with Meaden and Moore's Business Solutions Group. She primarily works with clients in the manufacturing industry, assisting them with business process evaluation and mapping, development solution design, and providing application training and implementation services of Enterprise Resource Planning Software Systems.