Meaden & Moore hosted a presentation with FMI, the leading management consulting and investment banking firm dedicated exclusively to engineering and construction, infrastructure and the built environment, for an update on where the industry is heading amidst the COVID-19 pandemic.
By now, the operating plan and budget you opened the year with have been scrapped. The top of this business cycle, the longest expansion in U.S. history, vanished over a weekend in early March. 150 days on, the global economy is in steep decline and dragging the built environment down with it. But while the broader economy seeks its bottom, industry leaders and managers must find their footing now and lead forward.
In this webinar, Jay Bowman, Principal with FMI, discusses the latest insights. Jay assists a broad range of stakeholders in the construction industry, from program managers and general contractors to specialty trades and materials producers, with the identification and assessment of the risks influencing the strategic and tactical decisions they face.
Attendees will learn:
Projected impacts on the construction industry

12–18 month scenarios in the ever-evolving macro-economic landscape

The varying impacts on industry segments and geographic markets

Near-term effects to ongoing projects and the potential long-term ramifications of this black-swan event
US Construction Outlook Post COVID-19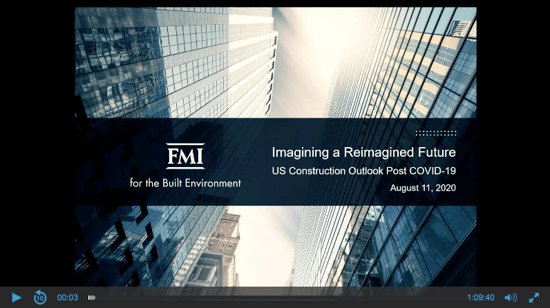 View webinar here. Have additional questions and/or needs related to COVID-19? Check out our dedicated resources or contact us directly.