Cloud computing is the biggest technology change witnessed by the professionals at Meaden & Moore since Windows replaced DOS. Every technology company is staking a claim in "the cloud" and marketing itself as cloud ready. Despite all the marketing hype, we have identified many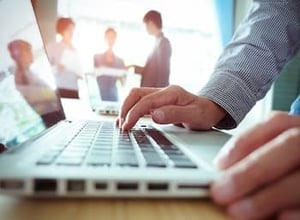 differences in approaches that could impact your business.
At its core, the idea behind cloud computing is to remove the costs, time, and hassles that companies incur in the management and maintenance of their own IT infrastructure and applications. This is not a new concept as "hosted" solutions have been around for over decade, but the means by which it's accomplished is changing dramatically.
Utility Model
Several large companies including Oracle, Microsoft, Amazon, Salesforce, and others sell the use of their computing services, essentially hardware, like a utility. They can quickly "spin up" a server for a business thereby allowing the business to avoid the cost of purchasing, installing, and maintaining the server. Some of these "utility" companies will also manage "your" server in their data center while others require your company to manage your server yourself or through third parties.
The latter is a service that we provide our clients and will offer more in the future as IT infrastructure and a business' ability to compute moves toward utility status.
Enterprise Business Software Impact
This new, utility-like environment enables any business software publisher (ERP, CRM, Accounting) to claim cloud support. Today, however, the spectrum is wide, and the differences fall into four areas:
1. One-Stop Shopping – Many larger software companies offer their own cloud environment without third-parties involved while smaller, boutique software companies tend to rely on utility providers. For example, Microsoft Dynamics ERP customers use the Microsoft Azure Cloud while Sage Software customers use Amazon Web Services and IQMS customers use the Oracle Cloud.
It is important to know that there may be multiple parties involved depending on the software provider when going into a cloud environment.
2. Software Licensing – Most business software has historically been and is still sold to buying companies on a per-user basis. Companies own the software in this model. Many software companies offer or are transitioning to subscription-based licensing where companies effectively rent the software. This latter model avoids the upfront license purchase, but, as with housing, the rental costs can outstrip the purchase costs over the longer term.
Companies need to carefully balance the short- and long-term costs of the licensing options offered by their current and potential future application software providers.
3. Browser Support and Mobility – Most business software in operation today was written many years ago to support a Windows-based, client-server computing world. A simple browser is insufficient to run this software. Put another way, most business software running today cannot be run through a browser. Newer software like Acumatica ERP and NetSuite ERP can. Many common ERP applications cannot and, as a result, require "middleware" like Citrix or Remote Desktop, to use them in a mobile or multi-site setting.
For companies with multiple facilities and/or a highly-mobile work force, our professionals cannot stress enough the benefits of enterprise software that runs natively in a browser. These more modern software "packages" offer better collaboration and mobility. Even a smaller, single-site, $5MM job shop recently chose its new ERP software, in part, because it runs through a browser without requiring a rich, heavy Windows client.
4. Customizations – We are in the early days of cloud computing. Whereas a browser offers mobility, intuitiveness, and simplicity, it does not offer as much power, complexity, or customizability of a rich Windows client deployment.
Many businesses we work with customized their ERP or Accounting software packages. Windows-based, client-server software offers extensive customizability through features like the Microsoft .NET framework. In the mobile, browser world, the same level of customizability is not (YET) available.
Businesses need to carefully consider the degree to which they are willing to accept the software's features and functions as delivered "out of the box." If your business has adopted a "have it your way" culture and plan to customize your experience with new or upgraded software, you may be better off with a client-server system and using middleware to make it mobile and/or distributed to multiple facilities. If, however, you are willing to adapt to the system's processing models without extensive customization, a newer, browser-based system may be more appropriate.
Please contact us today if you have any questions.