Business succession means many things to many people. At it's core, it is the orderly transfer of a business owner's interest from one generation to another. However, "orderly transfer" is much easier said than done. As illustrated in the graphic below, as the business moves further and further down through generations, the percentage of successful transfers decreases. For a country where 90% of our businesses are family-owned, this low success rate is grim.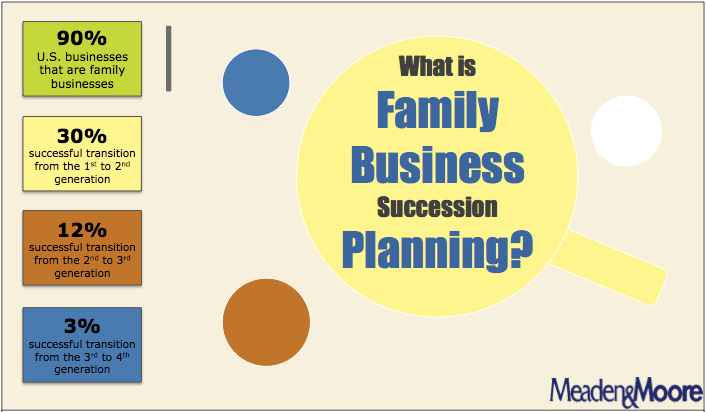 In my first blog post, I advocated for a call to action for family business owners to rise to the occasion and beat the glum statistics by taking a process-oriented approach that involves documenting and communicating a plan. Documentation and communication may seem obvious, but that's not always the case! These are two key elements for that "orderly transfer" that I mentioned earlier. (More on that topic in my last blog post, "Don't Let the Failure to Communicate be Your Business Succession Plan's Downfall")
For more information on successful business succession planning, watch the first video in my business succession planning video series below.
To learn more, check out our "Process-Oriented Approach to Family Business Succession Planning" Blog Series:
Part 1: Effective Business Succession Planning: A Call to Action
Part 2: 18 Must Answer Questions for Family Owned Business
Part 3: Balancing Family Relations with Family Business
Part 4: Identifying the Business Owner's Goals - Cash Flow and Financial Planning
Part 5: Identifying the Business Owner's Goals - Taxes
Part 6: Business Succession Planning: Keeping Your Buy-Sell Agreement Relevant
Part 7: Business Succession: Who Are the Stakeholders and How Can You Satisfy Them?
Part 8: Don't Let the Failure to Communicate be Your Business Succession Plan's Downfall