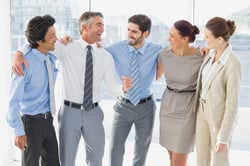 By now, you've surely heard about the "Great Resignation", and maybe you've wondered whether the term is a little hyperbolic - catchy and cute at the cost of representing what's really happening in the employment world.
Unfortunately, as both the people and data can attest, the answer is definitely "no".
The Great Resignation is very real. Workers are quitting their jobs at record rates, for a range of reasons, across almost every industry.
If you're a business owner, an HR professional, or an employer of any sort, your concerns are valid. Your antennae should be all the way up.
But Let's Let The Numbers Tell It:
73% of companies surveyed in the 2021 People Management Report are hiring.
68% of the same respondent pool plans to move forward with a hybrid workforce.
And roughly 1 in 2 employees are considering careers right now.
That makes for a perfect storm. Opportunity abounds as the economy improves and more companies broaden their hiring searches by embracing remote work. Half of the workforce is ready to make moves. Many people already have.
A record four million Americans quit their jobs in April 2021, and that figure didn't exactly fall off in the months that followed. June saw 3.9 million people quit - and 5.6 million "separate" from their jobs in some form or another. In short, the sample size may still be small, but the rate of turnover has been startlingly consistent.
It all begs one very simple question: Why?
The answers are a lot more nuanced. But the People Management Report found some themes already surfacing - and nearly all the insights connect to people. So if you want to flip the script on The Great Resignation and start your own Great Retention, read on.
Click here to access the full guide.
Please contact me if you have any questions.