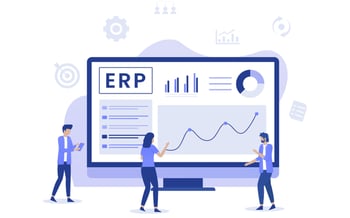 The ERP software system selection process is one that shouldn't be taken lightly. It's more than a software implementation or upgrade - it's aligning a tool with your business goals and processes to propel your organization into the future.
As a top ERP consultant, we help clients define their business and technology needs so they can be matched with the ERP software solution that will meet their unique requirements. We help minimize risk by using our proprietary tools, knowledge, and experience within the enterprise software marketplace. There are common questions we get from clients during the ERP system selection process, which we're sharing today. In addition, we have a three-part series on ERP system selection best practices, which can be found here:
Select the Right ERP Software System for Your Needs
What should you look for to determine whether you need a new ERP software system in the first place?
It may be time to make a change to your current ERP system if it cannot adapt to data you need to display or report on, or is difficult to pull data in the first place. Your ERP system should be an asset to your process, not a liability. Another warning sign is that it doesn't have the up-to-date functionality that your clients expect, such as electronic payments, EDI, automated purchase orders, blanket order inventory releases, and ISO quality standards. You don't want to let the lack of these functions get in the way of a new client. Finally, if your ERP system is more than 5-10 years old, you should consider an upgrade. Technology has grown exponentially and there are faster, better-performing ERP software systems on the market today. Not to mention, if you try to maintain old software, it may be cost-prohibitive as software firms want to retire older systems. Luckily, they usually offer an upgrade incentive to switch to a new system.
Where should you begin when selecting a new ERP software system for your business?
Start with your overall business objectives. Think about your plans for growth, new products, manufacturing processes, distribution channels, and anything else that is on the horizon for your organization. Look to establish links between your core capabilities and your key business objectives. The ERP system you choose needs to align with these objectives and be a tool to help you achieve them.
How do I figure out what functions I need in an ERP software system?
Complete a detailed analysis. Conduct a discovery and evaluation of your specific needs to identify exactly what you need your ERP system to do. Each company has unique needs that should be identified upfront as they may become "deal breakers" in your decision-making process. Here are some examples:
Human Resources

Marketing Automation

Supply Chain Operations

Purchase Management

Sales Management

Inventory Management

Customer Relationship Management (CRM)

Finance & Accounting

How should you approach the vendor selection process?
There are a number of factors you'll want to consider when evaluating ERP vendors, including:
If their solution addresses your core needs and concerns

Industries they specialize in

How long they've been in business

The kind of support they offer

How stable they are

If their solution is niche or all-purpose

You're ideally entering a long-term business relationship when you choose an ERP system provider, so you'll want to ensure they can support your company's needs now and adapt with you in the future.
When should you get leadership involved?
Leadership should be involved from the beginning, from search to selection to implementation. Getting a new ERP system or upgrading an existing one is no small feat and it's important that your executive team is fully on board. They can also provide important insight into the entire organization's needs and goals.
What questions should I ask during an ERP system demo?
When you know the specific features you need in an ERP system, it'll be easy to explain what you're looking for and ask relevant questions during the demo. However, we still recommend having questions prepared in advance. Questions you'll want to be answered include:
How long have you been in business? What is your long-term plan?

Can your ERP system integrate with other software?

What types of support do you offer?

How much experience do you have working with a business like ours?

How do your features meet my requirements?

How will your platform keep my data safe?

How do I evaluate ERP software vendors?
We recommend creating a scorecard that all team members can use during ERP software demos. This way, you can objectively rate each platform instead of simply saying you either liked or disliked it. Use the following criteria as a starting point and add in other factors that are unique to your organization:
Ease of Use/Navigation

Functional Capability

Search

Flexibility

Recovery from Errors

Overall Value

How do I get the best deal on ERP software?
As you're evaluating ERP software vendors and attending demos, you'll learn that the salesperson's goal is to close the deal with you – and they'll use whatever leverage they can. This could be discounted pricing, maintenance costs, or implementation costs. Typically, these deals will be offered at the end of a quarter or the end of the year. Use this to your advantage!
Work with an ERP Expert to Get the Most Out of Your Technology Investments
As you're going through the ERP system selection process, know you don't have to do it alone. Work with an ERP consulting firm to get the expertise that ensures you'll get the most from your technology investments. Contact Meaden & Moore today. Learn what you need to know to reduce the inherent complexity and risk associated with choosing an ERP system by downloading our ERP selection guide.