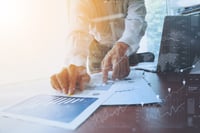 In September 2020, The Predictive Index surveyed 160 CEOs about their top priorities and concerns. Their answers provide a window into the minds of executive leaders during one of the most trying times in recent history.
COVID-19 has upended the nature of work. Employees are burnt out and disengaged after months of dealing with increased workloads, altered business strategies, and ambiguity. Parents are camped out at the kitchen table, trying to concentrate on work while their children are remote learning beside them. Essential workers are servicing their community while wearing masks and worrying about getting sick. And entire industries are preparing for a future where remote work isn't a stopgap but a permanent reality.
For CEOs, these are unique challenges—and they beg important questions. How are CEOs feeling, months into the pandemic? How's senior leadership holding up? Are teams prepared for the work ahead? The following study dug deep into these issues, revealing a common thread: Executive and critical teams are struggling to get along and deliver on strategy.
With 2020 nearly in the rearview mirror, CEOs are focusing on what's ahead. The stakes are high, there's work to do, and teams must accomplish more with less. To succeed, leaders will need to rely on their people more than ever and build dream teams that get the work done—no matter what the future holds.
After reading this report, you'll understand what's stressing CEOs—and why team cohesion is a top priority.
Click here to access the full report.
Please contact me if you have any questions.