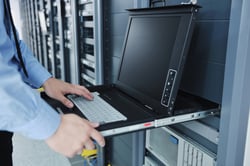 We at M&M hear it all the time...ERP has been around for 30 years, and it's a commodity. These systems do everything and they're all the same. Software sales reps tell us their software will solve our clients' needs while washing their dishes and shining their shoes at the same time. I challenge anyone to make those statements to a distributor or manufacturer of variable products. First off, of course, I need to explain what I mean by variable products and the specific challenges they present. Here are a few examples.
Bar Stock – Machine shops consume bars of brass, carbon and stainless steel, and other alloys in machining parts. Suppose a machine shop has 10 bars that are 8' in length, 3 bars that a 4' in length, and 22 bars that are 1' – 2' "drops". Assuming all 35 bars are the same alloy and shape, how many and in what unit of measure do they have in inventory? The production scheduler needs run parts that require 6' bar lengths per part. How many can she schedule and commit to a customer next week?
Rolled Goods – Carpet, flooring, adhesive, weatherstripping, and other similar manufacturers make "logs" of materials. Some buy logs of different substrates and roll them together while applying adhesive between the two substrates. If a rolled goods manufacturer makes 3 logs that are 60" wide and 100' long and 5 logs of the same product 54" wide and 200' long, how much do they have in stock and in what unit of measure. And, can they accept a customer order specifying a slit width of 56" wide and 150' in length?
Aerospace and Defense Products – The US Navy orders a replacement circuit board for a F/A-18 radar system, a 2003 model that requires Part Number 12345678 Rev B. Customer Service and Inventory Control peer into their ERP system and see that there are 25 in stock of Part Number 12345678 but the system doesn't support revision-controlled inventory, so they don't know if they can fulfill the Navy's order for the 2003 model of Revision B.
Consumer goods retailers and their suppliers have been dealing with these challenges forever. Go into a store or go online, order a dress or pair of trousers, and you'll be asked for your size. The clerk or eCommerce site needs your dimensional information in order to fulfill your order, not just the part number. Further, their well-designed and adapted ERP systems are what enable the clerk at Dick's Sporting Goods to quickly tell you they're out of the size 10 running shoe you want but plenty in size 9-1/2 and 10-1/2.
Manufacturers and the ERP software they run haven't been as quick to adapt to these challenges. Their roots were in making pieces and widgets. APICS gave us the guideline that if two widgets have a different form, fit, or function, you must make them different part numbers. For widget makers, that guideline made sense. In practice, however, machine shops can't afford the time and effort to create a new part number for every ¼" length of a leftover drop they create, nor can they create new part numbers for all the variable length bars they receive of 2" round stainless bars from their suppliers that differ only slightly in length.
Similarly, rolled goods manufacturers can't possibly create new part numbers for every length and width combination of the logs of materials they buy and/or manufacture. Aerospace and defense manufacturers don't like embedding the revision in each part number which, thus, makes each revision its own, unique part number.
The 21st century has given rise to greater variety and a "have it your way" paradigm. APICS responded by giving us the phrase "mass customization" for high-volume manufacturing of similar products with subtle but important distinctions in grade, revision, dimension, or some other variable attribute. The entire value chain depends on carefully tracking and conforming to and delivering to the customers' specifications related to grade, revision, dimension, or other attributes.
ERP systems treat variable products, ironically, in varying ways with widely varying effectiveness and success. Many have remained content to dealing with widgets and piece parts while others have evolved their designs to manage variable attribute products.
Understanding these differences is vital for new enterprise software buyers that distribute and/or purchase variable attribute products. Fulfilling these needs after purchase with extensive customizations are expensive adventures that should be avoided. Contact us today with questions.