Congratulations on the purchase of your new ERP system! Now just press the EASY button, sit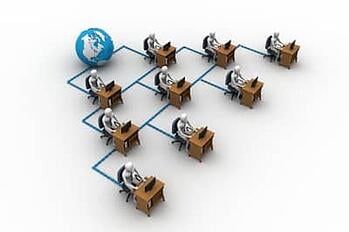 back, and watch as your new system automatically absorbs the data from your old system and sets up your new system in the most efficient way for you to run your business!
Wait, are you telling me it's not the way it works? No matter how much you hope for it to be, the ERP data conversion and migration process will not get done overnight. Despite the advancements made in technology and software for ERP systems, you can't bypass the work required to successfully migrate your company's data to your new system.
However, most of the pain involved in the ERP data conversion and migration process can be alleviated by planning ahead and allowing adequate time to methodically migrate your data. Using the tools provided by today's systems you should still be able to sleep well during the process.
The following are what I believe to be best practices for a successful ERP data conversion and data migration.
ERP Data Conversion & Migration Best Practices
Plan for Several Iterations: Allow enough time to complete three to four iterations of the ERP data migration process.

You will learn, as you go through each step in the process, that there are fields in several tables that you either forget to consider or may not need. Also, as your experience with the new ERP software package increases, you may decide that you want to use certain fields differently than how you had originally thought.
Historical Data: If you've had your current ERP software package for 10-15 years or more,

you may want to consider how much of that historical data is needed in your new system.

Since database efficiency usually decreases as more and more data is introduced, don't bring over more than is necessary.

As an alternative, most packages will allow you to create an additional database that could house the older data for future reference, such as past transactions and previous customer records.

Also, if feasible, you may want to maintain offline access to your older system to allow you to view historical data on an as-needed basis.

Scrub Your Data: Take this opportunity to "scrub" your data.

What does this mean?

Several things. Many ERP software packages don't allow you to delete certain master data once it has been entered or used in a subsequent transaction or order.

This can be the best time to eliminate needless data or even reformat data. For example, you probably have many customers in your database that no longer exist or with whom you haven't done business with for a number of years.

This is an opportune time to eliminate them.

Another example may be if you wish to expand or refine your list of valid product codes to more accurately reflect your business. Although this can be a time-consuming process, it can pay big dividends later.

Import vs. Manual Entry: Not all data should be or needs to be imported into your new ERP software package through the utilities provided. There are many "master" data tables such as Units of Measure, Terms Codes or Warehouses that usually have just a few records, so don't take the time necessary to prepare these tables for automated import.

But also consider tables like Customers or Resource Groups for manual entry if the realities of your business are that these tables are not very large. This will also give your users an opportunity to familiarize themselves with screens that they may be using on a daily basis in the future.
Testing, Testing, Testing: It cannot be emphasized too much the need for extensive testing of the imported data.

No matter how smoothly the importation of the data goes, you need to test as many scenarios as possible to confirm the integrity of the data.

Just because you have imported the same data that you had in the old software package doesn't mean that it will be sufficient for the new one.
Implementation of a new ERP system is a challenging task and the level of success can hinge on the quality of its data. Therefore, it behooves you to devote the time and preparation necessary to make sure that your data is of the highest quality and is ready when you need it during the implementation process. Contact a Meaden & Moore expert to learn more about the ERP data conversion and migration process.
Paul Bartlett is a Manager in M&M's Business Solutions Group. With more than 20 years experience in information systems, Paul has designed and customized many different business systems in a variety of industries. Paul provides clients with systems analysis, selection, implementation, training and customer support services.