Each industry has its own set of challenges and requirements for manufacturing processes and products. We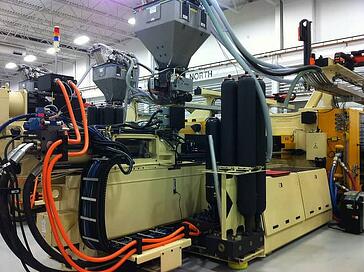 have worked with many small-mid-size molders over the years, to help them select, and implement solutions. As a result, we thought it might be helpful to highlight some key considerations when selecting an ERP system for this unique market segment.
Can your ERP software handle the complexity of your business processes? I like to think that most software vendors operating within the molding industry have identified their customer's key requirements in order to fulfill customer needs; however, not all software can provide the total solution without costly modification or customization. Here are some ideas to consider when you may be looking to make a switch, or when you are first assessing a potential business ERP software package for overall fit to your business model.
1. Family Tools/Molds
How does the software identify your tooling and molds? Consider how it may handle products that use the same mold, but different tooling, inserts, etc. Are they accounted for in the method of manufacturing? Do you have visibility of these resources within a schedule? If so, when the scheduling engine runs, does the software have the intelligence to run these products in succession to reduce the overhead that is incurred with mold changes in setup time and breakdown of the work center?
2. Preventative Maintenance
Not all software vendors provide an embedded solution when it comes to preventative maintenance. Be sure to identify whether this solution is embedded or integrated (with a third party product). With an embedded solution there is no need to worry about mapping the data, or building and maintaining the bridges between the two pieces of software. This saves you time, money, and a headache for your IT personnel. Don't forget to ask the question of whose responsibility it is to maintain these connections in an upgrade, or when a new software release/revision is coming out.
3. Blends/Mixtures Incorporating Regrind
How well can the system handle the various combinations of resin and raw material that may be used from work order to work order? Does the software provide for various methods of manufacture that have specific fields for regrind percentage, let down ratio/mixture ratio, and the various combinations of both? What happens when regrind is created and re-introduced (recycled) back into the process? How does the software account for this common practice? Or perhaps instead, regrind is created and then stored in inventory for a future production run. How is the system driving the decision making, while also keeping accurate track of both consumption and cost?
4. Labor Tracking
How in-depth is the labor tracking portion of the system? Can the system handle splitting labor costs when operators produce on multiple presses or machines simultaneously? Can the software account for personnel who may have multiple roles and costs associated with those roles, like a setup technician that also conducts preventative maintenance? Does the system optimize the labor force when scheduling, recognizing that certain certifications are required and scheduling only the personnel capable when conducting that operation? Does the system look at efficiency factors or priorities associated with your personnel when creating a schedule?
5. Real-Time
How close to real-time is your system capturing data and information? Can the system provide you with an automated, real-time solution to track and monitor your molding processes as they are occurring? Does it link with your equipment and provide accurate reporting, up to the minute and even up to the second data that in turn provides your personnel decision-making information? Does press information flow from your equipment to the ERP system for real-time statistical analysis? Does the system know when a cycle time is running fast or slow, when cavities are being fully utilized or not, or if an operator is potentially the cause of slow cycling?
At first look, most ERP software systems appear to do a lot of the same things to handle your day-to-day business. However, it is only when you have specific examples and get into the details of your daily activities do the true capabilities of the system distinguish one ERP solution from another.
In conclusion, there are over 100 commercially available ERP system solutions on the market for manufacturing. Each has its own strengths and weaknesses. Many have become "verticalized" into specific industry niches like automotive, plastics injection molding, project-based government contracting, metal fabrication, Make-to-Order job shops, process manufacturing, FDA regulated pharmaceuticals, etc. Take the time to research each one to look beyond what's on their website or in a webinar demo. It will pay off in the long run with a better implemented solution that will truly add value to your business.
This blog was authored by Kevin A. Goergen: Kevin has over 5 years of experience in business analysis and consulting and primarily works with clients in the manufacturing industry, assisting them with business process evaluation, and providing application training and implementation services of Enterprise Resource Planning Software Systems.
Read another post about ERP for the manufacturing industry:
How MRP Helps Your Manufacturing Business