Background
Twenty-six years ago, I was working for a large, multi-national chemical company and was put on a team to select a new enterprise-wide system to replace our separate Accounting and MRP software packages. This new (in 1994) software was called ERP (Enterprise Resource Planning).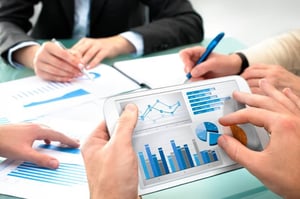 At that time, our Chief Information Officer told us that the new ERP system had to be Client-Server based because Windows just wasn't a passing fad. He wanted to deploy Local Area Networks throughout the corporation linking the growing number of PCs to Windows servers. Many doubters resisted our CIO, lamenting that we should stick with our HP mainframes and IBM minicomputers that used character-based, "green screen" software and "dumb" terminals.
Our CIO's edict led us to select an ERP system from a young, emerging tech company instead of an old stalwart like CA, SSA, MAPICS, Marcam, or Datalogix. He was prescient as those stalwarts all later folded or were acquired, unable to make the technology leap from mainframe and IBM mini to Windows networks. New ERP companies like SAP, Baan, JD Edwards, Symix, Epicor, Navision, and others replaced them with their newer, client-server, Windows-based software.
Back to the Future
Meaden & Moore's Management Consulting Services Group started seeing a similar pattern in 2014. Like client-server computing in 1994, cloud computing isn't a passing fad. That pattern became an unstoppable trend for us and our clients by 2019.
For some of our clients, the definition of "cloud computing" has been fairly loose. These clients might initially say they want a cloud system but, after investigation, we learned they simply want their manufacturing or distribution ERP solution hosted by the software publisher or a third party. In these cases, accessing the application through a Citrix server or Remote Desktop proves to be adequate. These hosted manufacturing and distribution ERP solutions preserve the benefits of a rich, Windows user experience and are often more customizable.
With other clients, however, we find they can truly benefit from a more narrowly-defined, cloud-based ERP solution. These clients benefit from zero software footprint on the desktop and the ability to access the software simply through a browser on any device. In the ERP market today, these browser-based, native-cloud alternatives aren't the majority, but more are coming to market every year.
The trend toward these newer, native-cloud solutions has been remarkable. In the last 4 years, half of Meaden & Moore's manufacturing and distribution ERP package selection clients have purchased a new-to-us solution. While the proven and mature ERP publishers continue to win with and serve our clients, new competitors like Oracle's NetSuite, Acumatica, Plex, Adion's Proshop, ShopTech's E2 SHOP, Cetec, and Bizowie were all named the ERP "vendor-of-choice" among our clients in the last couple of years, firsts for us at Meaden & Moore.
It's early, but Meaden & Moore sees these new-arrival disruptors as a permanent shift in the manufacturing and distribution ERP market. Please contact us if you have questions.