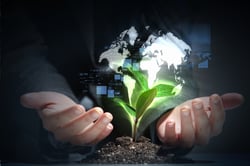 World leaders are currently meeting (from October 31, 2021 – November 12, 2021) in Glasgow, Scotland to discuss climate change and how best to tackle the growing threats it presents. While there is sure to be a lot of posturing, bluster, and sweeping remarks, there will also certainly be real action taken (or at least agreed upon). On November 2, 2021, leaders representing 85% of the planet's forests (including the United States and Canada) committed to not only ending, but reversing deforestation and land degradation by 2030. And the Biden administration plans to announce new regulations on methane emissions as well.
If these commitments are followed up on by the respective countries, there will no doubt be impacts on supply chains, costs, and logistics for many businesses. There have been several other recent developments that could impact the accounting profession directly too. Below is a summary of notable items:
The items mentioned above aim to provide individuals with more resources and information regarding climate change and its impact on the accounting profession. The impact these items will have is uncertain at this time, and for some of these items it can be unclear how best to comply without further clarification. This is something to be aware of as it continues to be a policy focus that can have implications beyond just reporting requirements and disclosures and can also affect future tax legislation. Contact us with questions.