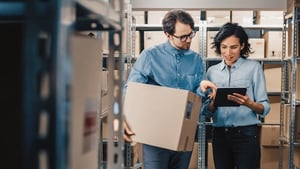 Freight management helps companies gain an understanding of where their shipments are, builds better customer relationships, reduces the need for excess inventory and improves reliability across the supply chain.
Businesses are always analyzing their operations and seeking to streamline them, work more efficiently, and reduce costs. But when it comes to shipping expenses, many assume they are fixed costs that cannot be changed. They maintain the status quo and lose out on potential savings. Actually, there are several innovative ways to reduce freight costs that are rarely explored.
Below are four steps you can take to improve logistics to increase profitability with freight management:
Get better rates. Negotiate better rates by scheduling freight services in advance as much as possible. Also, coordinate off-peak pick-up times and days for local/domestic shipping and use a freight company to help lower costs.
Leverage technology to your advantage. Some ERP systems have freight management built into them and create a seamless, behind-the-scenes opportunity for finding freight companies, scheduling the shipments automatically, measuring logistics KPI metrics, etc.
Develop relationships with carriers. When companies develop more strategic, longer-term carrier relationships, they create transportation management advantages that have bottom-line implications. Longer-term contracts give the carrier time to find other customers in the area to create a more efficient network. If the carrier is more profitable, then you'll receive better rates. A longer relationship can also lock in a lower rate and provide better service.
Assess your freight program and challenge it. If you've always assumed that something wouldn't work, revisit it and question it. Take a step back and gain a better understanding of your freight needs and logistics. You just might be surprised by how some creativity and negotiation can change the status quo.
Many of these solutions seem quite obvious, but companies often ignore them and end up paying more for their freight services than they should. Smart companies can mitigate costs by adopting a proactive and well-planned strategy to manage their freight program.
Please contact Meaden & Moore if you have any questions or would like to discuss your unique situation and how smart freight management can help you cut costs.