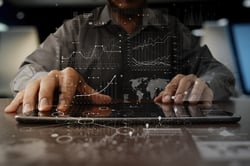 When they hear terms like "data analytics" or "business intelligence," many small business owners tune out, mistakenly thinking this only applies to large corporations with huge budgets. But this often isn't the case: small and mid-sized businesses (SMBs) can also reap benefits from data analytics if they understand some of the basic concepts surrounding it.
What is Data Analytics?
Data analytics describes the large volumes of information generated by businesses as a byproduct of their normal operations. Even relatively small businesses today can generate so much data that it's difficult for traditional data processing methods to analyze it.
With the growth of digital formats and ever-expanding business uses of the internet, including e-commerce and social media, many SMBs now find themselves flooded with data. This problem is sometimes referred to as the three Vs of data: Volume, Velocity and Variety.
By harnessing this data and using it effectively, SMBs can accomplish a wide range of objectives and gain a strategic advantage over their competitors. For example, effective data analytics can help businesses:
Market to customers more effectively
Monitor and track marketing results more accurately
Identify customers' needs more quickly
Design and manufacture products that meet these needs
Manage inventory more efficiently
Improve sales and revenue forecasting
Streamline operations
Reduce costs and thus boost profits
Get Started with Data You Already Have
It doesn't take a big budget or dedicated staff to start using data at your business. In fact, you might already have some of the most useful tools right at your fingertips like reports prepared by your sales team, email marketing reports, social media data feeds and website analytics.
Start your data analytics initiative by asking questions that are directly related to your business goals. If your goal is to increase market share among a specific customer segment, for example, you first need to know what your current market share is and the market share of your key competitors. Or if you want to boost net revenue by lowering manufacturing costs, you need to know the cost of goods sold for each of your top-selling products.
True data analytics involves more than just statistical summaries of data, though. You also need to be able to identify patterns in data and understand what's causing them. This can help you anticipate what might happen in the future and formulate your strategic plans accordingly — a process known as predictive analytics.
Popular Data Analytics Tools
Some of the most popular data analytics tools among SMBs include the following:
• SAS — This software suite retrieves, mines and manages data from a wide range of sources including the internet, social media platforms and internal databases. It then performs statistical analysis to transform data into business insights that can help improve business decision making.
• Kissmetrics — This tool is designed specifically for marketing analytics. It mines internal and online databases to identify common customer behaviors that help you target your marketing efforts more effectively. Based on Kissmetrics data analytics, for example, you can target email marketing campaigns more precisely and get detailed campaign metrics that go beyond opens and clicks.
• InsightSquared — This tool seamlessly connects to software you're probably already using like Salesforce, Google Analytics and QuickBooks to provide you with sales, marketing and staffing analytics. For example, InsightSquared can harvest data from Salesforce to help you spot sales trends and improve sales and pipeline forecasting, lead generation and tracking and profitability analysis.
• Google Analytics — This popular (and free) digital analytics platform gives you everything you need to analyze your website data from all touchpoints. Using Google Analytics, you can determine where your website traffic is originating from, how long visitors stay on specific pages on your site and how they engage with your site, as well as how many visitors access your site via a mobile device vs. desktop. This kind of data can help you improve your website's form and functionality.
• Microsoft Power BI - This suite of cloud-based business analytics tools gives you a 360-degree view of your most important data with the ability to build custom, dashboards. And even better, many businesses might already have this tool as a part of their Microsoft software suite.
Data Analytics: Right for Your Business?
Don't be intimidated by the data analytics lingo or assume that data analytics is only for big businesses. If you're ready to harness the power of your data to make data-driven decisions, we can help. Talk to your advisor about the potential benefits of launching a data analytics initiative today.