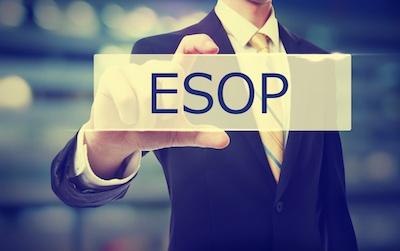 When deciding if an employee stock ownership plan (ESOP) is the right business ownership strategy for your company, there's a few things you need to consider.
First off, what is an ESOP? An ESOP is an employee-owner program that provides a company's workforce with an ownership interest in the company. It must follow the Employee Retirement Income Security Act of 1974 (ERISA) and the Internal Revenue Code of 1986 (IRC). An ESOP is also a qualified employee benefit plan similar to a 401(k), but it's permitted to invest in private company stock and allowed to borrow money from it.
What Makes a Good ESOP Candidate?
Privately held companies with a strong financial history and a long-term management team are perfect candidates for an ESOP. Having an owner who values employee contributions and is willing to share ownership with them is essential.
What Are the Benefits of Becoming an ESOP?
Benefits of ESOP companies are:
The Owner is given an exit strategy with flexibility related to financing the transaction and transition time, taxes, and estate planning.
Existing senior management typically stays in place, allowing for the continued success of the business, which creates value.
Employees now participate in the success of the business and are more empowered, which provides greater incentive to work toward profitability.
ESOP vs. non-ESOP companies:
Employee-owned product branding
Lower employee turnover
Higher return per employee
Sales per employee are 8.8% higher
Less layoffs (2.6% vs. 12% during downturn)
Loan default rates are lower
Tax benefits of becoming an ESOP:
If the company is a C-corp, the selling owner can take advantage of a 1042 rollover if more than 30% of the shares are sold. Essentially, deferred capital gains taxes.
For both C-corp and S-corp companies, payments made to an ESOP are tax deductible.
If payments are made to satisfy debt obligations, principal and interest payments are deductible to limits.
If 100% owned S-corp, there is no federal income tax as the ESOP is a tax exempt trust.
Competitive cost advantage
Acquisition advantage
What Are the Disadvantages of Becoming an ESOP?
There are upfront and ongoing costs of maintaining an ESOP such as a third-party firm to administer an ESOP, trustee, valuation, and legal costs.
If the ESOP is solely for an exit strategy, the price of the ESOP shares is limited to the fair market value of the stock, thus no premiums can be paid.
As an ESOP, there's always an obligation to repurchase shares from participants who terminate their employment. The repurchase obligation can impact company cash flow and possibly other cash needs of the company.
Pushback on transaction costs. ESOP costs are typically greater.
Feasibility report
Feasibility studies can help you to outline your goals, ensure there is proper financing, and help you check for adequate cash flow.
Fiduciary responsibilities
It's also important to have a fiduciary who can follow the plan document, ensure compliance and that the plan pays no more than fair value for the company stock, and enlists outside advisors when needed.
Interested in learning more? Download our webinar, "ESOPs: Are They the Right Ownership Strategy?" If you want to know how we can help you create a business ownership strategy that meets your specifications, contact us today.