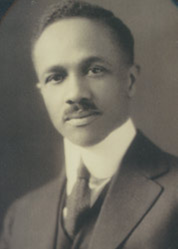 Happy Black History Month! This is the month we celebrate and raise awareness of the contributions made by African Americans. Black History Month first began in 1925 as Negro History Week thanks to Carter G. Woodson. The initial celebration was a success and by the time of Woodson's death in 1950, Negro History Week had progressed and was appreciated by many Americans. This annual celebration later expanded to a month in 1976.
Over my career (especially recently), I've had many discussions with colleagues, clients, and friends about the lack of diversity in the accounting profession. I remember having an in-depth conversation with a client one day on why there aren't many black CPAs and how I chose that profession. I appreciated his interest but more importantly I appreciated his final question, "What can WE do to change this?" Reflecting on this conversation as well as a recent Facebook post from a friend got me intrigued about the history of black CPAs. And so, I share with you the history behind the first African American CPAs!
John W. Cromwell, Jr., CPA
The first African American CPA. John was born into a prominent family in Washington, D.C., and graduated Phi Beta Kappa from Dartmouth College in 1906. He began is career teaching math at a black high school. In 1921, he traveled back to New Hampshire to sit for the CPA exam as he was not allowed to take the exam in D.C., Virginia, or Maryland due to the lack of experience (since firms would not hire African Americans). With his CPA license in hand but no opportunities to work at accounting firms, John continued teaching and in 1930 became the controller at Howard University. He also worked for black owned businesses in the D.C. area on evenings and weekends. In 1960, 40 years after obtaining his CPA, he was still the only African American CPA in D.C.
Mary T. Washington Wylie, CPA
The first African American female CPA. Mary grew up in Chicago and earned her undergraduate degree from Northwestern University. She also faced the same challenges where firms would not hire African Americans. So, in 1939, she began her own accounting firm in a basement. Her passion was not only in the accounting profession but also mentoring black youth to follow her footsteps. Today her firm is known as Washington, Pittman, & McKeever, LLC. Not only does her legacy continue with her firm but also her passion for supporting diversity in the accounting profession continues through the Mary T. Washington Wylie Opportunity Endowment Fund established by the Illinois CPA Society and the CPA Endowment Fund of Illinois.
This is a short synopsis of the life of John and Mary. They both knocked down the barriers that tried to stop them from achieving their personal goals in the accounting profession. Today, the barriers to minority accounting students may be the same or somewhat different. This is why Meaden & Moore's commitment to Diversity, Equity and Inclusion is so vital. We are proud to work together to lead the change!