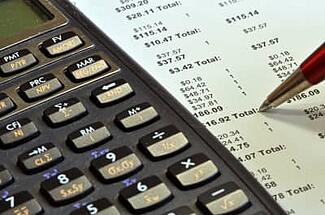 QuickBooks is an accounting software package that enables you to do as much or as little bookkeeping as you choose. It is an application that is capable of tracking great detail, processing payroll, and producing managerial reports. It is easy to learn and can be used as minimally as needed. You can maintain a check register with deposits and payments categorized. There are several editions of QuickBooks, so we would be happy to discuss which version will suit your needs.
Data entry is easy. There are numerous options for navigating, so whether you like drop down menus, shortcut icons or flow chart pictures, you can move according to your personal preference.
You don't have to understand the behind the scenes accounting. For instance, when you want to make a payment, you don't have to know that an expense account is being debited and a bank account is being credited. You simply type information on a screen that looks like a check and the software will take care of the accounting.

If you are unsure of how an item should be coded, you choose the useful "Ask My Accountant" account. By leaving an informative memo, we can determine which account should be used for that entry. (Just don't overuse that account. You may not put everything there!)
If you are interested in keeping more detailed records, QuickBooks is capable of job costing, tracking reimbursable expenses,

maintaining inventory, budgeting, and multiple currencies - to name a few.
It makes data transfer to your friendly accountant a simple process. You can easily create a backup and forward it to us – on a flash drive, over the internet, or to our ftp site. We can view your data and address any concerns we find or use it to issue an official Financial Statements and Accountant's Compilation Report (more about that at a later date...) It also supplies us with the information needed for tax preparation and to compile financial statements for tax planning.
To really keep your books in order, you can send us an Accountant's Copy. This enables us to review your information and make changes prior to a particular date, while you continue to work in the file after that date. We can send our changes back and the program will incorporate them into your file without changing any of the new data you've entered.
We have several certified QuickBooks ProAdvisors on staff who are available via phone, email or on-site visit to assist you. We can help with selecting the specific edition that has the features you need, do the installation and training, and answer your questions or address your concerns.
Note, we are not paid endorsers of QuickBooks, though our ProAdvisor status provides some pricing discounts which we are able to pass on. We simply like the straightforwardness of the software and find it to be a valuable business tool. Please contact us to see how QuickBooks might be benefit you.
Compiled by the Paraprofessionals of the Small Business Department. A team of ProAdvisors who enjoy problem solving and simplifying your record keeping processes. To contact the Small Business Department, click here.
Read another post from the Paraprofessionals of the Small Business Department:
Why You Need a Financial Statement