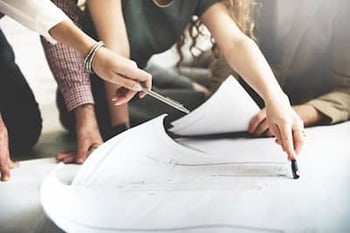 In general, clerk of works, or conducting a forensic examination of construction costs, involves ensuring that the general contractor and its subcontractors have invoiced a stabilization, remediation, construction, and/or reconstruction project with relative reasonableness.

Clerk of works requirements typically involve on-site monitoring, gathering of supporting information (time sheets, equipment counts, etc.), and confirming that invoicing is relevant and free of duplication. Whether the contractual arrangements are Time & Material (T&M), Cost-Plus (CP), Guaranteed Maximum Price (GMP), or Integrated Project Delivery (IPD), the typical accountant's contributions to a project are limited and measurable.
An experienced forensic accountant, with a comprehensive understanding of construction scope and terminology, industry standards and issues, and tricks-of-the-trade, can serve as the eyes and ears of the adjuster and/or project owner. The days of simply gathering and verifying supporting documentation are no longer.
Advantages of Forensic Examination
Whether it is labor, equipment, materials and reimbursable expenses, soft costs, or markups and taxes, forensic procedures can be applied to identify:
Inefficiencies

Excessive spending and billing

Duplication and unrelated costs

Departures from contractual agreements and scope

Inconsistencies with industry standards

Fraud and abuse
The value of an experienced forensic accountant can begin prior to the commencement of work. A clerk of works site inspection can identify and value the implications of proposed contractual terms and set a successful course through to the completion of a construction or reconstruction project. Whether intentional or unintentional, a general contractor and/or the subcontractors may significantly overestimate and/or overbill the project owner.
The forensic accountants are able to provide an unbiased, independent analysis, with the understanding that the relationship between the project owner and general contractor must often continue beyond the completion of our involvement. The highly technical expertise, in conjunction with heavily trained soft skills, fosters an environment of cooperation between the parties involved and drives projects to efficient and equitable outcomes.
Clerk of Works Site Inspection Findings
Following Hurricane Katrina, for one project in New Orleans alone, between the stabilization and reconstruction invoicing, Meaden & Moore's professionals had findings nearing $30 million. Included in our findings were:
Inflated labor hours

Ghost employees

Overtime charges that were not in accordance with how they were being paid

Excessive supervisor-to-laborer ratios

Labor charges for overhead classifications

Charges for monitored inefficient labor

Excessive equipment usage charges and consumables charges

Consumables charges duplicated with reimbursable charges

Duplicated and unrelated reimbursable charges and mobilization/demobilization charges

Unrelated and inaccurate general conditions charges

Compounding and inappropriate overhead and profit mark-ups

Inappropriate tax mark-ups.
These findings were tangible and measurable. What wasn't measurable was how much was inherently saved simply due to our on-site presence, monitoring, and active participation and communication with the parties involved during the course of the project.
With a wealth of knowledge in construction scope, terminology, industry standards, and industry issues, obtained through vast experience in all construction settings, Meaden & Moore's professionals possess the tools to provide a clerk of works site inspection that goes beyond the numbers. Our partnership with our clients, hands-on implementation of processes, and collaboration with the involved parties delivers cost-effective and equitable resolutions to the insurance loss and design and build sectors.