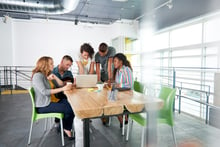 Think about the best team you've ever been a part of. What did it look like? How did it form? And what were its core values?
Chances are, those values included trust and accountability. These are essential components of any cohesive team. But striving for these ideals isn't enough—you also need a culture and mission that nurture these core beliefs.
Optimized talent is cohesive talent
A talent optimized organization does just that. Talent optimization is the discipline of using people data to design and execute a talent strategy that's aligned with a business strategy. The practice enables a company to adapt to change, make informed personnel decisions, and protect its most productive assets without sacrificing mission or values.
Talent optimized teams are resilient, efficient, and enduring. They can navigate even the most fluid or uncertain of circumstances.
That means sometimes doing more with less, but also doing work smarter. It means playing to the strengths of your people, and understanding how to motivate them based on their strongest behavioral drives.
Talent optimized teams are self-aware and empathetic, but also balanced enough to sustain themselves. They max out productivity by efficiently leveraging strengths and leadership.
In this article, we'll cover:
Understanding what type of team you have
Balancing the drives of your team members
Aligning team members toward common goals
Keeping people accountable to those goals

And in doing so, we'll examine how each is made easier through talent optimization.
Click here to continue reading.
Please contact me if you have any questions.