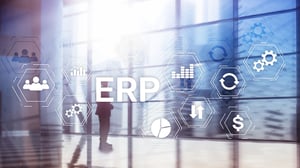 The manufacturing world is full of jargon and acronyms, and the term "job shop" gets thrown around a lot and is often misunderstood.
This article defines some of the characteristics of job shops and identifies some of their unique challenges for ERP software.
1. Make to order supply chain strategy
2. Limited finished goods inventory; inventory mainly held in raw material form
3. Products made to each customer's unique design and demand pattern
4. Small batch production runs (as compared to repetitive manufacturers)
5. Complex routings with long production lead times due to high product variability
6. Relatively simple Bills of Material, often just a single raw material
7. Functionally-organized plants (e.g. Milling separate from Grinding separate from Machining) with moves and queues between each step in manufacturing process
8. Flexible, multipurpose equipment with low capacity utilization
9. Complex scheduling requirements
Given these characteristics, it's not surprising to find that classic Material Requirements Planning (MRP), a pillar of ERP software, is often not needed or utilized. Job shops don't need MRP, for example, to translate a sales forecast into a time-phased production and finished goods inventory plan. Instead, job shops often ship right from the floor to order bypassing finished goods inventory.
If MRP isn't needed, then, what makes an ERP system appropriate for a job shop? There are many factors, but the most prominent three are:
1. Strong cost estimating features to support the quoting function and volume of quotes for custom products.
2. Ability to link Sales Quotes, Sales Orders, Work Orders, Purchase Orders, and Shipments. Activities are often done on-demand, not to replenish inventory.
3. Strong operation-level capacity planning, scheduling, and sequencing features to manage the numerous moves, queues, and changeovers inherent to a job shop.
Meaden & Moore has worked with just about every job shop ERP package available on the market and in use at our clients. We are currently working with clients in the adoption of five of the top ten on the market including:
1. ECI Software Solutions' M1 and JobBOSS
2. Global Shop Solutions' One System
3. ShopTech's E2
4. IQMS' EnterpriseIQ (primarily for plastic and rubber molding job shops)
5. Epicor's Vista (no longer being sold but still widely used)
We also have research on and prior experience with other job shop packages like Made2Manage, Henning Software's Visual Esti-Track, Jobscope, and Visibility.
Job shops are different than product-based manufacturers, and there are many job shops in our region. The Meaden & Moore consulting group has worked with many of them, and we understand the unique challenges faced by job shops.
Contact us if you have questions.