Cloud-based enterprise resource planning (ERP) systems are simply a suite of ERP applications delivered to users over the Internet, usually accessed via a standard web browser. While these systems share most of the same features as "on-premise" ERP systems (ERP software that runs on in-house servers), there are several critical areas we discuss with our clients when considering the advantages and disadvantages of purchasing a cloud-based ERP vs. on-premise systems. The best choice will depend on the organization's structure and business strategy.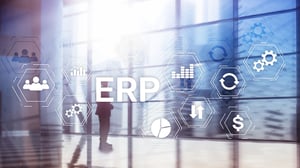 Advantages of Cloud-based ERP
Ease of Implementation: Cloud ERP systems are faster to implement than on-premise ERP systems. The technical environment for cloud technology can be configured in as little as 24 hours.
Limited "In-House" IT Resources: We rarely hear of companies where the IT department is looking for things to do. With cloud-based solutions, the provider takes care of hosting the solution and the support, so there's no need to hire and train additional IT resources.
Scalability: One of the most appealing features of any cloud-based ERP is the ability to easily scale as a company's needs change. For an on-premise system, it is a time and labor-intensive process to upgrade and scale.
Mobility and Access to Information: Mobile devices are now firmly embedded as essential business tools. Where on-premise ERP software has been slow to adapt to the mobile world, cloud-based software allows sophisticated access and control through ERP-enabled mobile devices.
End User Adoption: Cloud technology typically has modern user interfaces that make them easier to adopt than on-premise software, so employees may be quicker to embrace software changes.
Regular Upgrades: With cloud-based ERP, software updates are deployed from the manufacturer or vendor's cloud servers, removing the burden of constantly updating the system from IT departments.
Disadvantages of Cloud-based ERP
Data Security:

There is an ongoing debate about whether cloud or on-premise ERP systems are more secure, with the widespread perception that the cloud is unable to provide the stability or security of an on-premise ERP system. The main concern for cloud system security is that there is no luxury of assuming that the service will have a secure moat built around it. This places more security responsibility on the shoulders of a client's employees.


Customization Limitation:

Customization options are restricted in cloud-based software, this is why some manufacturers are still utilizing on-premise ERP systems that are best suited for their specific operations.


Price/Cost Savings:

While the initial cost of cloud technology is lower than on-premise technology, subscription costs add up over time, and many business leaders are more concerned about minimizing capital expenditures than reducing operating costs.
The Meaden & Moore ERP team has the expertise and experience to dig deep into our clients' challenges and specific operational requirements to present a side-by-side comparison illustrating which type of software is ultimately best for their business. Please contact a Meaden & Moore ERP expert today if you have questions.