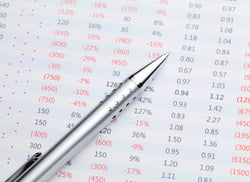 Management accounting is hardly a topic that stirs excitement. If you tell the average person on the street that you are a management accountant, his or her eyes are likely to roll in disinterest. Why is that? After all, management accountants play a critical role in any high functioning efficient manufacturing company.
Accounting in general isn't exactly glamourous and excluding Ben Affleck's turn as an accountant in the aptly titled thriller The Accountant, the profession still suffers from the stereotype of men wearing green eyeshades and glasses. I am here to tell you that is no longer the case—nowadays, more women than men are donning this essential accountants' gear!
I kid. The computer age, microcomputers specifically, transitioned the profession from those dark dreary bygone days. Today, software is every accountant's friend—in fact, our heads are up in the clouds, quite literally—at least our pictures and all our thoughts and musings private and/or professional.
Software use is ubiquitous, although hold outs do exist. Tales of small companies keeping paper ledgers are not in the far distant past for all Meaden and Moore's clients. Accounting has always been a necessary scorekeeping task, required for reporting income and assets to the multitude of government agencies. Thank goodness, otherwise what would accountants do with themselves? No need to answer.
Who am I to regale you with this tale? Well, just someone who has lived through it all, starting with a tour of a fortune 500 company data center while in junior high school back in the eighties. What a sight to see back then, when Apple just made computers, and so did Radio Shack. The data center I toured had state-of-the-art reel to reel magnetic tape storage and punched card data entry. What a wonder! Things changed fast after that tour. By the time I started my career as an accountant, coincidently with the same company whose data center I had toured, the offices were replete with DOS based PC's running on Intel 286 microprocessors.
The age of office automation had begun. The spreadsheet software of choice was Lotus 123, and it had a print feature called WYSIWYG which was an acronym for What You See is What You Get. Revolutionary at the time, this enabled accountants to set up fancy formatted financial statements in Lotus to print on demand. Most accountants' financials still reside in spreadsheet software, although it is now likely Microsoft Excel.
There have been many advances in software that continue to this day with the biggest trend being the move to cloud based servers. The cloud server architecture has spawned data centers that make the reel-to-reel operation I visited as a kid look like a child's science project today. Datacenters hosted by Amazon, Google and Microsoft are enabling companies to operate without an inhouse information technologies staff.
Management accounting was different then. Back in the mid 80's a manufacturing controller had a larger staff, and a paperless office was a bad fever dream. A very bad dream, accountant's loved paper in those days. While the nascent personal computer revolution was driving productivity in the office, the standard accounting tasks ruled the month-end close cycle and the monthly forecasting cycle. Maintenance of business functions in Accounts Receivable and Payables were much the same as they are today—write checks and collect customer payments. The budget and forecast cycles were used to drive cost reductions and increase profitability and cost accounting promised to value a company's products as accurately as possible.
A cursory review of these tasks would cause one to conclude that management accounting is the same as it ever was, but let's look closer. In Accounts Receivable we now transfer documents electronically. Most payments are made by ACH. Online corporate banking websites allow easy and immediate access to transactional data. Customer payment portals have become standard functionality at large corporations.
In Accounts Payable, many invoices are e-mailed as pdf's. Outside the U.S., in Mexico, every invoice has an electronic xml version that is submitted to the government for tracking purposes. Suppliers can be paid by ACH. EDI is used for ordering.
Today it is common to outsource payroll and most outsourced payroll vendors have transitioned to the cloud, a task a lot of ERP vendors have yet to achieve.
These changes now seem inevitable, but all along the way management resisted, unconvinced that the new way was better. And, maybe, in some instances they were correct, but by and large they were trying to restrain a tsunami.
If you are old enough to have lived through this evolution as I did, now is a good time to do some self-reflection, were you a luddite or did you embrace the future? Perhaps you were a luddite that embraced the future through your staff? Or maybe you resisted the change and still resist to this day?
If you fall in the latter category, congratulations, you are principled, and you are likely running a successful business judging by our mailing list. Change is hard, and operations normally takes precedence over the office and financial reporting. Office improvements are often neglected. Maybe your tried-and-true costing methodologies have served you well over the years of low mild inflation, but the current runaway inflation has you searching for answers?
Change is inevitable and it isn't always for the better. It's harder to find workers now, much less good to great workers. This is true across fields, and certainly is the case in finance.
Maybe it is your financial staff that is living in the past and has not embraced new technology? Normally this is a failure of leadership in the department. This can be easy to overlook when the financials are problem free and everything is routine, but as time marches on we all transition into retirement or circumstances change and the tried-and-true no longer works.
Does this sound like your organization? Maybe you have a high performing star, but with the strong job market you are fearful that you will lose them?
Meaden and Moore has the answer to these questions. M&M can provide you with a variety of financial support, from fractional controller services to financial process assessment. You might not require a full time CFO or controller. Your controller or CFO may not be fully occupied, and is distracted, bored and complacent and as a result so is their staff. This scenario begs for our Fractional Controller Service.
When your financial leadership has grown complacent and is resting on past laurels you need to call Meaden & Moore. M&M will come in and assess the state of your financial operations in a tactful, emotionally intelligent manner, that can ease a transition or provide coaching to those willing to embrace change and continuously improve.
You might be totally happy with your financial leadership, or even a financial leader yourself, reading this and asking yourself, why am I reading this? The answer is because you want to continuously improve, to take advantage of new technologies and the techniques they afford, but you don't have the time to dedicate to read through manuals or take online courses. Let Meaden come in and help. We have done the study; we have the experience, and we want to help.
Maybe you are transitioning an accounting manager, and you need help bridging to a replacement, because of the tight labor market. Meaden and Moore can help. Contact a Meaden & Moore expert to learn more.