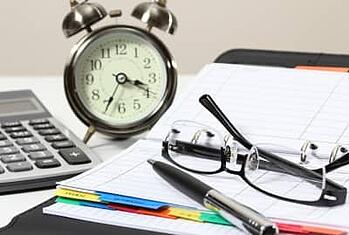 This busy season, Meaden & Moore will be sharing a new blog series written by our new hires. They will be sharing their fresh perspectives on the world of accounting and how they are faring during busy season. Our first post comes from Alex Cipolla, a recent graduate from Ohio State University. Stay tuned for more!
Having never dipped my feet into the Sea of Public Accounting prior to January 5th, 2015, I'd like to etch in stone my journey through my first busy season, and I'm doing this for a few reasons. First is to have something to look back on for nostalgia purposes. Second is to inform those who are either thinking about, wondering about, worrying about or belittling a career as an accountant. The glamour is in the numbers folks.
So if you haven't heard the words "workpaper", "fixed assets" or "trial balance" before, then you're not a public accountant. If you have, then that's amazing because you are part of a field that provides an awesome experience for someone who is fresh out of the college world (O-H!) and looking to become a fully functioning member of the workforce (a club of older folk who don't get a summer break).
My first three weeks as a public accountant have been nothing like my previous twelve hundred. There has been some overlap of course, but a lot of the things that I'm doing now are categorized in my life development log as completely new experiences. Mind you once again that I have never had an internship or any prior experience in the accounting field.
So as I said before, there has been some overlap between my previous life and my current one. The first, and perhaps greatest example is the five days of training I received during my first week at Meaden & Moore (I forgot to mention this earlier, but this is the place I work). It reminded me of all my years attending classes and learning new concepts, the major difference being that paying attention did not mean I would get an A or B, but that I'd be able to perform my job to the best of my ability. It was a lot of information to take in but it was nice learning about something that was directly correlated to my job. By the end my mind was filled to capacity with information on new software, auditing procedures, and tax info; ready to take on anything that was thrown at me.
That Saturday I slept in until noon, recovering hours of sleep that were lost as the transition process was being implemented into my daily sleep schedule. I should have cherished that moment more than I did. No more sleeping in on Saturdays for me.
The next week I was not scheduled out on any jobs. And for those of you who are new to the field, like me, a job is how I've heard the people around me describe an audit engagement. Auditing, to me, without any textbook or Google search in sight, is the process of traveling out to the client's location, whether that be a headquarters, manufacturing plant, or anything in between. During that process you and your team gather in some type of conference room or workspace and start chugging away at auditing procedures in order to accomplish an array of goals. The biggest one that sticks out in my head is to ensure that there are no material mistakes in the client's financials. Material mistakes meaning mistakes that are large enough to throw off a potential investor, creditor, and the like.
As a new hire, I've been tasked to audit the asset side of the balance sheet, mainly cash, receivables, prepaids, and fixed assets. With having only 3 weeks of experience under my belt, I don't want to go into too much further detail about the process in order to protect myself from sounding like an idiot. All I will say is that the learning curve has been as steep as a double black diamond. My first day out in the field was nothing short of overwhelming as I was barraged with words, sounds, phrases, and software that I had never been exposed to before in my life. Everyone was speaking a second language. I felt like a tourist in Barcelona trying to find my way to the train station, equipped with a hand-sized translation dictionary and a map dated back to 1995. That paints quite a dramatic scene, but it nears the truth.
As the week went on I did my best to fill in what I could in the workpapers and asked many questions along the way. Each day brought a reward in the form of new knowledge, but also brought in three times as many ambiguities. I'd say at the end of the week I gained a surface level of knowledge about the software and an even shallower knowledge of the actual processes I was performing. Progress. Spreadsheets filled my dreams and veiled my vision.
At the end of the week, I drove home with a certain kind of feeling that I had never previously had: I made it through my first engagement. And better yet, I was still alive. It was a good ride home.
I think the ability to adapt to such varying conditions will go a long way in whatever I do down the road. Having a new team, dealing with a new client, and traveling to a new place all require certain abilities that I've only begun to understand, let alone master. But this is why public accounting appears to be so great to me. It's a flurry of new experiences and challenges. I'm rarely comfortable. Without getting too philosophical, a lot of people say that in order to grow we need to break through our comfort zones. Auditing is a great outlet for doing so, and I firmly believe that the diverse challenges that accompany the field are equipping me for the future.
To end my first post, I'd like to say that I look forward to my next one, as I'm sure the nature and technicality of it will be much different than this one. Hopefully I won't be writing about how much I hate accounting.
Thanks for reading.