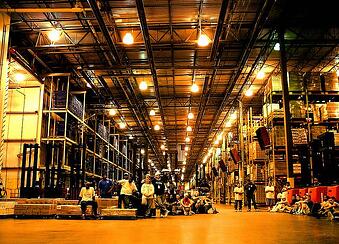 Twas the night before New Year's, and all through the warehouse,
Not a creature was stirring, not even a mouse.
The tags were hung on the boxes with care,
In hopes that the auditors soon would be there.
Year-end inventory is a special time of year for a CPA, a time when a large number on a balance sheet comes to life. It's when we get to see first-hand what a business does. It gives us the opportunity to interact with a group of employees that we may not otherwise get an opportunity to speak to, employees with a viewpoint of the Company's operations that is not based on the numbers found in financial reports.
The value of an inventory observation to your Company extends above and beyond independent verification of your inventory. It gives someone outside of your organization a chance to observe the lifeblood of your Company and to ask questions from a different mindset. Are policies and procedures that are in place being followed? Are there control issues that you may not have considered? Are obsolete, returned and damaged items properly identified and segregated from products available to ship? Are shipments and receipts of inventory at year-end properly identified and accounted for in the inventory listing? Do employees have process improvement suggestions that management may be unaware of? Is there a potential for theft that may not have been identified or addressed? Believe it or not, these are all things that we consider while observing your inventory.
The results of what we find will allow us to provide suggestions on procedural changes to help your organization operate more efficiently, step up loss prevention measures, or simply alert management to a problem they may otherwise be unaware of. Do you have $250 worth of bubble wrap and cardboard boxes sitting in a locked, caged-in area while several hundred thousand dollars worth of inventory sits behind the building in an open, unguarded lot? Is there a pallet of rusty, 30-year old parts on the floor still being carried on the books at full value? Did someone ship a bundle of $50,000 springs to a customer to fill a $100 order because they were both kept in the same bin? Is the high-tech equipment purchased months ago to better track inventory still sitting unopened in its box? These are all issues that we have uncovered in just a few short hours walking a warehouse floor and counting inventory.
The real value of the inventory observation may not always be the count of inventory itself so much as it may be identification of issues like those found above. And the sooner issues like those above are found, the sooner they can be addressed.
This blog post was co-authored by Nik Shaw:
Nik Shaw is a Manager in Meaden & Moore's Assurance Services Group. He has provided public accounting services to a wide variety of clients in various industries, including media, service, manufacturing, and distribution. Nik's responsibilities include planning of engagements, preparing financial statements, working with clients and the accounting staff to find solutions to problem areas, and developing ideas for growth.