Over the holidays and as I struggled through another 'some assembly required' toy project, I heard a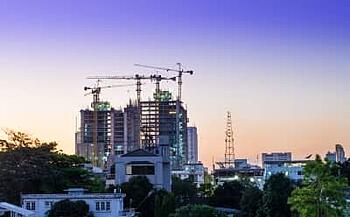 surprising prediction for 2014. "You go over America…you do not see cranes. That's going to change. That's the big story of 2014…commercial construction" proclaimed Jim Cramer on CNBC's Squawk on the Street.
The animated Cramer, whose normal gig is making stock predictions on his show 'Mad Money', did not provide any further insight on his forecast. As a CPA who specializes in the industry, I had to know more…what makes Jim Cramer so excited about the commercial construction market in 2014?
Don't get me wrong, the industry players that I talk to generally have positive sentiments about 2014…but the 'big story' of the year?
In fact, many experts predict slow to moderate growth in 2014. For example, the Engineering News Record reports "construction market forecast: slow and steady for 2014". In another report, FMI, a consultancy firm, expects U.S. commercial construction to increase 5% in 2014. This compares to forecasted residential construction growth of 12%...and yet Cramer is particularly excited about commercial construction and not housing?
So in hopes of getting inside the mind of Jim Cramer, I took a look at a few of his recent stock picks.
I came across industry names such as Fluor (FLU), a global construction and engineering firm, Quanta Services (PWR), a firm specializing in infrastructure projects, and United Rentals (URI), an equipment rental company.
Incidentally, all three companies are trading at or near their 52 week highs with price to earnings ratios ranging from 20 to 28. At such high earnings multiples, Cramer is not alone in his enthusiasm for the industry's growth prospects.
So maybe Cramer and the shareholders of these companies are onto something? Maybe the economic forecasts calling for slow to moderate growth are wrong?
For instance, digging deeper, I found that Crains Cleveland Business reported back in September that "Alan Zatik, president of ABC Equipment Rentals, said the Brunswick company saw a strong increase in business last year that has continued this year on a smaller scale. He said rentals are up 7% to 8% across the board."
The article went on to say "to gear up for the increase in business, crane rental company All Erection & Crane Rental Corp. is stocking and updating its inventory of construction cranes for lease…some of which is slated for use near the company's Cleveland headquarters…there's a lot of action in Northeast Ohio right now," said Peter Zeller, a spokesman for All."
It is too soon to tell if Jim Cramer's prediction for 2014 will prove accurate, but there are a few trends that seem evident in the local construction community.
These trends include:
Alternative Delivery Methods
Public Private Partnership
Joint Ventures
Skilled Labor Shortage and
Ohio's Natural Resources
To navigate through the challenges of the current environment, contractors will want to team with advisors who specialize in the industry and understand its current trends. To learn more about the current trends in the Ohio construction industry read this special report "Ohio's Top 5 Construction Trends".
Another post by Aaron: Construction Industry Accounting: New Standard on Revenue Recognition