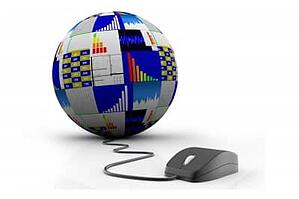 Have you heard about the online version of QuickBooks? If you haven't yet, you will soon. It's gaining notice in the world of accounting software. Since it's an online product, technically it's a service not software. There are several other ways online differs (some good, some bad) from the desktop version:
Flexibility: The ability to access your data file from any computer with an internet connection is certainly convenient.
Reduced administration: Updating installation and file backups become a thing of the past. Intuit automatically updates the website and your data is stored in the cloud.
Improving features: Intuit is focusing heavily on the development of the online product. In time, the desktop version will likely be phased out.
Accountant access: You are able to invite an accountant as an additional user (above your number of licensed users). Your real time data is then readily available to your accountant, eliminating the need for transferring backup or accountant copy files. (We really like this one!)
Simple conversion: Importing the data from a desktop version is a fairly easy process. Since accountant access is readily available, we can help or handle this without much difficulty.
User experience: If you are converting from a desktop version, the look, feel and navigation of the online version is much different. Sometimes, annoyingly so. The familiar flowchart and drop down menu navigational methods have been replaced by three launching points (two of which are not particularly easy to locate). It's very different.
Lackluster reports: Intuit is well aware that the report capabilities are not as impressive as those in the desktop version. Finding or customizing reports to display data the way you want can be challenging.
It's live: If you make a major error, restoring the most recent backup and starting over is no longer an option. Related to that, the audit trail feature, which details all changes, is not as helpful as that of the desktop version.
Cost: There is a monthly fee. If you were a desktop user, particularly one who liked to wait years between product upgrades, there is an increased cost.
No looking back: The detailed information that so easily imports into the online version does not export back to desktop. If, for some reason, you choose to discontinue the service, you would need to rely on hardcopy printouts of your reports and data.
For those who've never worked in a desktop version, the online option will presumably be a great experience. For those making a transition, the old saying "Change is never easy," might ring true.
Intuit's website details all the selling points of the online product. If you'd like to discuss the pros and cons of how your company specifically would be impacted, click here to contact us. We have many certified ProAdvisors ready to assist.
For another post about QuickBooks, check out: 6 Reasons We Like QuickBooks
This blog was co-authored by:
Christy Fullerton is a paraprofessional in the Entrepreneurial Business Group of Meaden & Moore's Akron office. She assists small business clients with bookkeeping and accounting needs and is a certified ProAdvisor for QuickBooks and QuickBooks Online. She enjoys reading, traveling, and being on the go with her active family.