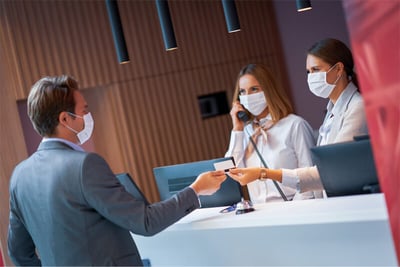 When the world first heard of COVID-19 and the possible global pandemic, it is safe to assume that no one anticipated the monumental and long-lasting impact on the economy. Since March 2020, the impact of COVID-19 has been felt by nearly every business sector in the world over. While some sectors benefited during the enormous and unusual shift from normal everyday life to pandemic life, the hospitality sector, and specifically hotels, experienced some of the most detrimental impacts of all business sectors. Since the pandemic, hotel revenue and occupancy have experienced continuous impacts associated with the onset of new variants.

In this article, we will explore the subtleties COVID-19 had, and continues to have on measuring business interruption losses for hotels. Since March 2020, there have been dramatic shifts in hotel's respective markets as well as shifts in the economic behavior of travelers. COVID-related considerations now represent a significant aspect of business's overall strategies and operations and must be understood to accurately measure business interruption losses.
Key Factors for Evaluating the Impact of COVID-19 on Hotels
The impact of COVID-19 is volatile and there are numerous factors that need to be explored to understand the impact of the pandemic on a hotel and accurately measure their business interruption loss. Some of the most important factors include:
Typical customer base of hotel: business vs tourist / international vs. domestic
Hotels were impacted differently depending on their customer base. For example, hotels that rely on international tourists were severely impacted by the COVID-19 related travel restrictions. However, once restrictions were relaxed and removed, performance started to recover. Comparatively, for hotels that rely primarily on business travel, there was a long-lasting negative impact as many businesses switched to virtual meetings and reduced the requirement for business travel.
Whether the hotel is Luxury vs. Economy
During 2020 when travel and tourism all but drew to a halt, luxury hotels were significantly more impacted than economy hotels. Many luxury hotels completely closed down in the middle of 2020 and have been impacted throughout the pandemic. On the other hand, economy hotels stayed open during the worst periods of the pandemic and continued to maintain relatively healthy occupancy from guests such as truck drivers and extended-stay guests.
Location of the Hotel
As cities and states across the nation had vastly different COVID-19 restrictions and orders, the location of a hotel has a significant impact on operations. On a more local level, the exact location of a hotel in a city impacted performance during COVID-19. For example, hotels located near airports were significantly impacted when air travel dropped, compared to hotels located in popular areas with high rates of local visitors.
Time Period
It seems like every couple of months there is a new variant which causes its own unique impact, and possibly, its own localized mandates on normal business operations. Therefore, it is paramount to understand what period you are trying to measure and take into consideration any variant/subvariant and/or mandates that might be relevant to the incident location.
One must always consider the interplay and ever-changing nature of these factors. For example, during 2020, the State of Hawaii closed travel to mainland US Citizens and many hotels in Hawaii temporarily closed operations. However, in 2021 when the State relaxed restrictions, Hawaii tourism increased dramatically with many hotels enjoying rates that were significantly higher than those achieved in 2019, due to high demand from tourists who were unable to visit other international destinations.
Key Elements of the Business Interruption Calculation
In addition to the high-level key factors discussed, it is also necessary to review the following elements of business performance.
Analysis of Occupancy and Room Revenues
In order to survive in the ever-changing environment during COVID-19, hotel business owners needed to adapt. Businesses shifted their goals and strategies and "played with" the interplay between rates and occupancy. For example, some focused on high occupancy by sacrificing average daily rates. Others accepted low occupancy for higher average daily rates. When calculating a business interruption loss, it's essential to analyze these changing dynamics in the period prior to and during the loss period (if the hotel remained open).
Analysis of Ancillary Revenue
Occupancy and room revenue are not the only aspects of hotel's revenue that have been impacted by COVID-19. Ancillary revenue streams such as party room rentals, conference room rentals, and on-site dining were significantly impacted by COVID-19. So much so, that for many hotels, these ancillary revenue streams disappeared during the pandemic. It is important to identify the correct base period on which to project the ancillary revenue streams. It is also essential to have detailed conversations with the insured's representatives to understand how the ancillary revenue streams were impacted and when, and to what extent, they have returned.
Analysis of Expenses
Depending on the time periods analyzed, there would likely be reduced payroll expenses as most hotels reduced staffing levels and daily room cleaning to inhibit the spread of COVID-19. Similarly, a significant number of hotels decided to forgo "add-ons" such as a breakfast buffets. As the impact of COVID-19 decreases and hotels return to normal, pre-incident expenses may not be representative of expenses that would be incurred during the loss period. Consideration must also be made to increased costs due to inflation and/or supply chain issues brought on by COVID-19 and the global economy's reaction.
Essential Documentation to Review
In light of the above, it is essential to request enough documentation to obtain a robust understanding of how the hotel was operating prior to the pandemic, how the hotel responded to the pandemic originally, and how the hotel has emerged since the lifting of mandates in their respective markets. Often, this leads us to require significantly more historical data than normally would be requested.

As a result of COVID-19 there have been substantial directives passed down by the federal government, state/local government, and sometimes even more localized orders. When measuring business interruption impacts for hotels, it is imperative to fully understand what restrictions were in place at the time of the incident and what impact those restrictions had on the business. The COVID-19 orders issued by the federal/state/local government impacting the insured will often be publicly available.

With all these delicate considerations one must be aware of when measuring the business interruption impact for hotels, there is a data set available that is unique to the hotel industry. This data set, combined with normal business records, help to understand the current market for the impacted hotel. Smith Travel Research (STR) is a company that provides premium data benchmarking, analytics, and marketplace insights for the global hospitality industry. It is generally an industry standard that hotels submit operational information to Smith Travel Research. The hotel is then able to select hotels within their market and Smith Travel Research provides comparable data for all hotels within the competitive set. STR Reports are an invaluable tool because they can display how comparable hotels close to the incident location fared during the period of measurement. STR reports are available on a weekly and monthly basis. The STR reports include information regarding occupancy, revenue per available room (RevPAR), average daily rate (ADR), ancillary revenue per occupied room, and much more.
Looking Forward
In the coming months and years, it will be interesting to see how the hospitality sector fares. If the past two years is any indication the outlook appears to be unclear. While no one knows what the future might hold, the path for the hospitality sector could be marred by additional variants and subvariants that force additional local and statewide orders. Or to the contrary, travel of all types: business, leisure, and international could rebound quickly bringing the hospitality sector back to pre-pandemic levels. Also, as people become more comfortable traveling and utilizing the amenities of the hotels as before, we could see ancillary revenue increase as well.

As we try to forecast what might be on the horizon, there appear to be new challenges at every turn. For example, while business and pleasure travel may return back to pre-pandemic levels in the years to come, there may be other market conditions that limit hotels' capacity to accommodate guests such as labor shortages.

The American Hotel & Lodging Association's 2022 State of the Industry report is also filled with a multitude of variables. While the travel outlook for 2022 and beyond remains positive, continued volatility is expected. The industry must be willing to conform to the "new" travelers' expectations, they must focus on attracting and retaining employees, and possibly reevaluate their loyalty programs to continue to grow with the ever-changing market.
Well-rounded Business Interruption Calculations
As with any business interruption measurement, it is important to fully understand the business and impact of market conditions. This statement is even more true due to the complications and nuances brought about as a result of COVID-19. There is no doubt that COVID-19 has made economic damage calculations more difficult. However, with the right information and by asking the correct questions, one can navigate these turbulent times and produce an accurate, well-rounded business interruption calculation.