When you select and implement an enterprise resource planning (ERP) system that best aligns with your business's needs, it can be the most important thing you do to streamline operations and improve cross-departmental efficiencies.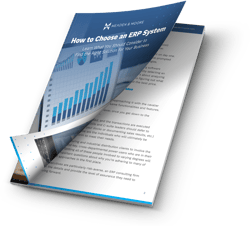 Download our guide to learn what you need to know to reduce the inherent complexity and risk associated with choosing an ERP system for your manufacturing or industrial distribution company.
In this guide, we cover:
How you should approach the selection process
The tiers of ERP systems
The benefits of cloud versus on-premise ERP systems
The key criteria for choosing an ERP system
How an ERP consulting firm can help simplify the selection process
Fill out the short form on this page to download your copy.