The passage of the federal infrastructure bill has opened new opportunities for the construction industry as the effects of the pandemic have subsided.
Nonetheless, the construction industry has seen an up-and-down 2021 as growth was tempered by supply chain challenges, material shortages, inflation, and a tight labor market. See how your peers and experts are viewing the future of the industry.
Download this whitepaper to learn about the factors that have affected the construction industry since early 2021 and what 2022 has in store.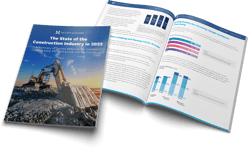 Fill out the short form on this page to download your copy.